Paula Snow has a South American heritage that goes back generations and after a lifetime of adventures, she now calls Florida home. It was in Pensacola, the Sunshine State's Panhandle city with white-sand beaches where Paula began her career as an eXp Realty agent in 2017 – quickly becoming renowned for her expert skill set by achieving ICON agent status every year since then, plus being named ICON Agent of the Year in 2022.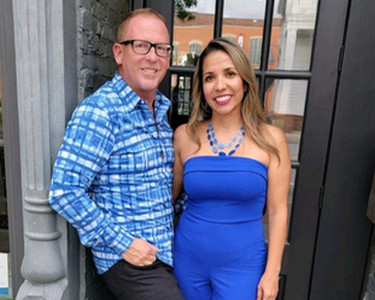 "My parents came from Colombia, South America. They came to Canada in the 70s with very little money. My mom says she would walk and look for signs at businesses hiring sewing machine operators. They often worked two jobs to make ends meet,'' Paula said.
Paula Was a Flight Attendant Before Switching to Real Estate
Paula flew high from her first jobs. Early on, she was a flight attendant on a short-trip route for Greyhound Air from Toronto to Vancouver. She loved it, and jumped to Canada 3000 Airline for bigger pay and longer routes.
"I thought I wanted to see the world, but I didn't realize how tiring it would be. I was assigned a flight to Amsterdam and was so excited. By the time we got there, I was exhausted and never saw the city. Also, the passengers became so demanding and rude. So after three years I said I can't do this anymore. A good friend of mine suggested real estate because 'I was friendly,' and that was it.'' Paula said.
Paula Closed Her Indie and Joined eXp
That was in 1999, and after building a solid real estate business and starting her own brokerage Paula made another discovery: Running a brokerage and selling real estate is a lot to manage.
>See why independent brokerages are flocking to eXp Realty
So in 2017, she joined eXp Realty where she could turn her production into more money and more long-term financial security, thanks to eXp's ICON agent program and stock options. 
Listen to Paula Snow describe why she loves eXp's referral opportunities, or click the video below:
"I love working for a larger brokerage where there is a great opportunity to network and get referrals. The cloud-based brokerage was actually attractive to me because we stay very busy. I found it very distracting and difficult to get all of my work done in an office environment at previous brokerages,'' she said.
An ICON for 5 Straight Years, Paula Finds a Well-balanced Life at eXp
Paula knew exactly what eXp would do for her.
"I've ICON'd for five straight years; every year since I joined eXp. If you do the production, it's easy. In this real estate market (where homes average $320K), it takes a little more to cap. But I love my life. I play pickleball. Walk my dogs, go to the gym. Watch my kids' games. We have a well-balanced life,'' she said.
Better yet, when the eXp stock went up, Paula was able to give back to her beloved parents.
"In 2020, my parents bought a house in my neighborhood. I cashed out and sold some stock to help them with the moving expenses. But for me now, the stock doesn't matter. At a company like eXp, I am able to play the long game because of everything eXp does for its agents,'' she said.
Learn More About Paula Snow:
Gross sales and transactions in 2022: $16 million on 51 transactions.
Brokerage history:
eXp Realty (May 2017-current)
Coastal Living Realty (2014-2017)
Grand Realty (2011-2014)
SellState (2009-2011)
RE/MAX (2005-2006)
DeHanas Real Estate (2002-2005)
RE/MAX (1999-2002)
Main territory: Pensacola, Florida
Main focus: Single-family homes
Number of people on team:
Domestic team with her husband, Jeff.
Accolades, accomplishments & awards:
5-time ICON agent
eXp Realty 2022 ICON Agent of the Year
What makes eXp special to you?
"I love that our brokerage cares about the agents enough to come up with several ways to financially give back to the agents. There is no other brokerage where the founder of the company wants to financially give back to its agents the way eXp does. Most brokerages are set up where the founder or broker makes all the money while the agents do all the work."
What is one thing about eXp that surprised you?
"When I was asked to teach a class for my cultural commitment I assumed that eXp would give me material to teach, but instead I had to create my own material and it stretched me in ways that I never expected. I've realized that eXp is more than just a brokerage. It provides the opportunity for personal growth."
What kind of collaboration have you experienced at eXp?
"I've really enjoyed the networking opportunities with other top-producing ICON agents. Making friends with agents all over the country is like the cherry on top."
Best tip to share with other agents:
"Stay in touch with your past clients and don't let the relationships grow cold. Once the relationship grows cold it's hard to rekindle it."
__________
Interested in jump-starting your real estate career? Learn how eXp Realty puts agents first.