Despite continued economic headwinds, eXp World Holdings continues to experience growth and outperformed the market by 43% during Q3 2023. (Read the press release here.)
While continuing to hold a strong revenue position in the market, the focus this quarter was on agent-centric innovation, revealing an improved Agent Net Promoter Score (aNPS) and a 5% increase in agent count compared to the same quarter last year.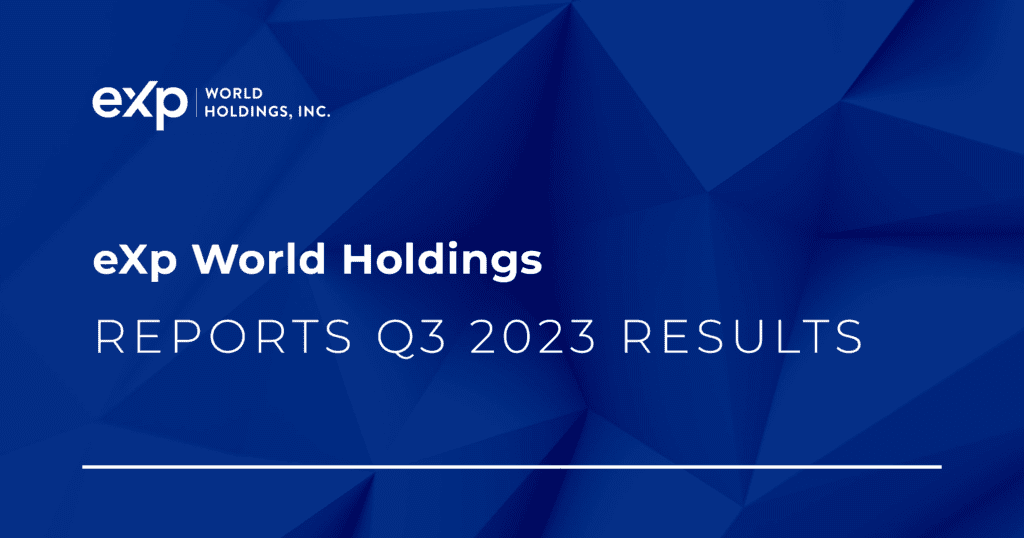 "During the third quarter, we continued to focus on agent-centric innovation that drove meaningful results, as we once again increased eXp's agent Net Promoter Score (aNPS) while extending our market share gains," said Glenn Sanford, Founder, Chairman and CEO of eXp World Holdings. "In a slower market environment where every transaction counts, eXp's agents in the U.S. significantly outperformed the market during the third quarter. This outstanding performance speaks to the differentiated nature of eXp's platform and the power of our unique, success-oriented culture. 
"Moving forward, we see many opportunities to further iterate on our agent-centric value proposition with programs like Boost, Accelerate, Thrive, and eXp exclusives, partnerships with Opendoor and the HomeRiver Group."
Year-over-Year Financial, Operational and Organizational Highlights From Q3 2023:
Revenue decreased 2% to $1.2 billion.
Gross profit decreased 10% to $83.6 million. 
Net income of $1.3 million. Earnings per diluted share of $0.01 compared to earnings per diluted share of $0.03 in the year-ago quarter. 
Adjusted EBITDA (a non-GAAP financial measure) of $19.0 million. 
Generated $56.8 million of Adjusted Operating Cash Flow.
As of Sept. 30, 2023, cash and cash equivalents totaled $120.1 million, compared to $121.6 million as of Dec. 31, 2022. The Company repurchased approximately $55.9 million of common stock during the third quarter of 2023.
The Company paid a cash dividend for the third quarter of 2023 of $0.05 per share of common stock on Sept. 4, 2023. On Oct. 25, 2023, the Company's Board of Directors declared a cash dividend of $0.05 per share of common stock for the fourth quarter of 2023, expected to be paid on Nov. 30, 2023 to stockholders of record on Nov. 16, 2023.
eXp Realty ended the third quarter of 2023 with a global agent Net Promoter Score of 74, up from 71 a year ago. NPS is a measure of agent satisfaction and an important key performance indicator (KPI) for eXp given the Company's intense focus on improving the agent experience.
Agents and brokers on the eXp Realty platform increased 5% to 89,156 as of Sept. 30, 2023.
Transactions increased 1% to 139,480.
Transaction volume decreased 4% to $48.5 billion.
Announced the first brokerage, The Bean Group, to join eXp Realty through the Boost program on Sept. 12, 2023.
Hosted first EXPCON Canada, the Company's first signature event held outside the United States, on Sept. 6-8, 2023.
Announced the expansion of its partnership with Realty.com into Canada with the launch of Realty.ca on Sept. 7, 2023.
Appointed Bain Fellow and NPS creator Fred Reichheld to the eXp World Holdings Board of Directors on Sept. 7, 2023.
Announced eXp Realty exceeded the 1,000-agent milestone in South Africa on Aug. 10, 2023.
Launched eXp Luxury Division in Canada on Sept. 7, 2023.
Safe Harbor Statement
The statements contained herein may include statements of future expectations and other forward-looking statements that are based on management's current views and assumptions and involve known and unknown risks and uncertainties that could cause actual results, performance or events to differ materially from those expressed or implied in such statements. These statements include, but are not limited to, statements about the continued growth of our agent and broker base; engagement in third party affiliations; improvements in technology and operational processes; expansion of our residential real estate brokerage business into foreign markets; revenue growth; share repurchases; dividends; and financial performance. Such forward-looking statements speak only as of the date hereof, and the Company undertakes no obligation to revise or update them. Such statements are not guarantees of future performance. Important factors that may cause actual results to differ materially and adversely from those expressed in forward-looking statements include changes in business or other market conditions; the difficulty of keeping expense growth at modest levels while increasing revenues; and other risks detailed from time to time in the Company's Securities and Exchange Commission filings, including but not limited to the most recently filed Quarterly Report on Form 10-Q and Annual Report on Form 10-K.