Joel HusVar's prominent independent brokerage in Buffalo closed on $65.8 million in sales in 2022. That's an eye-popping 265 units in New York state's second-largest city. 
So, yes, it was a natural question: What could a move to eXp Realty do for HusVar Real Estate? The team was a well-oiled machine of 26 agents who racked up tremendous sales courtesy of three full-time administrators and customized software. 
Turns out, a lot.
"I first took a meeting with eXp Realty because I was talking to my now sponsor Justin F. White about changes I saw in the brokerage model back in June of this year.  He told me I should attend this event in Florida and see what eXp has to offer.  I was resistant at first because I created my own transaction management software and had plenty of leads through my CRM so I didn't understand the value,'' he said.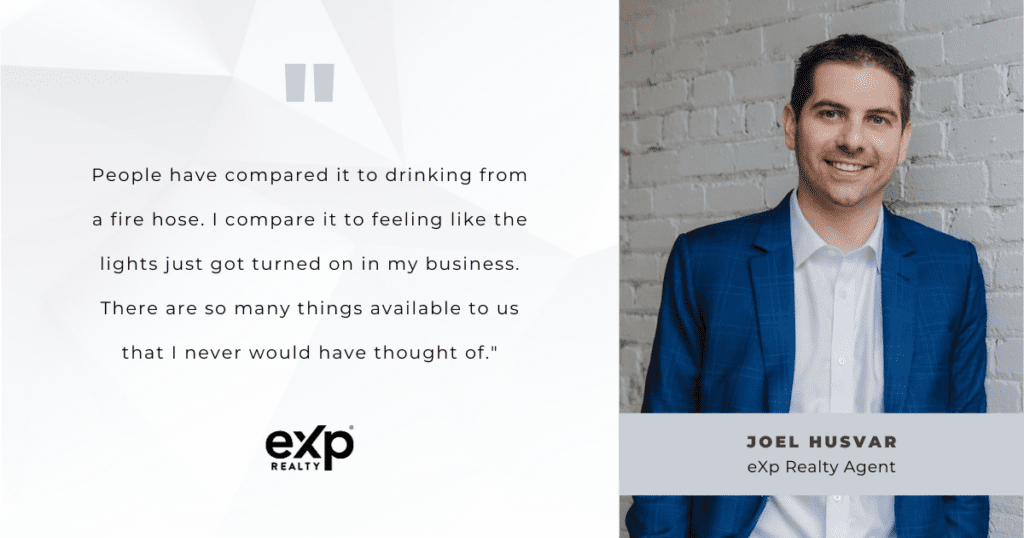 But then the edge eXp Realty delivered became crystal clear, especially to a seasoned industry leader. Joel is a real estate lobbyist in Albany at the New York State Capitol where he interfaces with legislators on a variety of issues about the industry. 
> See why revenue share has a bigger upside than profit share
"I was able to cut my expenses while providing a better split and better technology to my agents. Then, I modeled out how revenue share would impact my business – it's a game-changer."
One Trip to eXp Shareholder Summit Was All it Took
That introduction came last June, when eXp agents and stakeholders gathered in Orlando for the eXp Shareholder Summit. By August, Joel was so gung-ho on the switch that he presented it to his team.  
After working through the transition and onboarding process, The HusVar Real Estate Team has just landed at eXp this November. The change is welcome and energizing.
> See 15 reasons why independent brokerages are flocking to eXp Realty
"People have compared it to drinking from a fire hose.  I compare it to feeling like the lights just got turned on in my business.  There are so many things available to us that I never would have thought of.  Obviously, revenue sharing, but the technology is unmatched,'' he said. 
Learn More About Joel HusVar:
Brokerage history:
eXp Realty (November 2023-present)
HusVar Real Estate (founder) – (June 2021-November 2023)
716 Realty Group (founder) – (July 2017-June 2021)
HusVar Properties (founder) – (May 2012-July 2017)
Other highlights:
2023 Vice President WNY REIS MLS
2022 President Buffalo Niagara Association of Realtors
2022 Director National Association of Realtors
NYSAR Director
__________
Interested in jump-starting your real estate career? Learn how eXp Realty puts agents first.