Editor's note: A version of this article is available in French. Click here.
November 11 is Veterans Day in the United States and Remembrance Day in Canada. To honor the brave men and women who have served their country, we spoke with several eXp Realty agents about their military service and their transition into a real estate career.
When asked why they decided to join the military and how serving has impacted their lives, we heard responses that ranged from military service was their calling, to a familial connection, and a recognition that it was time to grow up.
"I come from a military family and am what the community calls a "military brat," said North Carolina-based agent Vanessa Zink. "Serving my country was something I had to do."
Reggie Moore, an agent in Virginia, shared that he was inspired to join the military after the 9/11 attacks. "I was driven by a deep desire to safeguard my family, my community and our nation."
"Serving my country has impacted my life in ways I couldn't have imagined," shared Naseem Eissa, an agent in Idaho. "Joining at the age of 18, I had a lot of growing to do. It brought me from an immature kid to a young leader, and to be a great leader you have to be an even better follower."
How Real Estate Has Impacted Their Lives
Several agents discussed their motivation behind transitioning into real estate, saying that they aimed to educate and advocate for military homeownership through VA loans, giving service members an amazing opportunity to build their wealth, retirement and legacy.
"After 9/11, being a Middle Eastern man working on aircraft, my dad was discriminated against. He was forced to take an early retirement, which left us with pretty much nothing," said Naseem. "I promised myself when I was able to buy a home I would do it. After deployment at the age of 21 I immediately bought a home. I cried because I had accomplished the biggest goal in my life. I fell in love with real estate at that moment."
eXp Realty has also helped agents transition into a civilian career by offering autonomy to build a unique brand in real estate. "eXp provides me with easy access to various real estate sectors and connects me with top-tier professionals, enabling me to elevate my business to new heights," said Reggie.
Naseem gave a nod to EXPCON for helping him build strong connections, "The collaborative environment has put me in the rooms to build relationships with people that have had a direct impact on the growth of my business, from the people in my upline to the people I met at EXPCON."
How Veterans Day and Remembrance Day Has Affected Them
Several agents reflected on what Veterans and Remembrance Day means to them and how other veterans can embrace their transition into civilian life. 
Jennifer Maling, an agent in New Brunswick, Canada, shared the importance that Remembrance Day holds for her family. "It's a day in our family that is always filled with emotion. It's a time to reflect and remember the sacrifices so many of our friends made as well as the generations before us. My husband and I both served in Afghanistan and on Remembrance Day we put on our medals and go to the Cenotaph to pay our respect with our three boys, who also made a huge sacrifice having parents that missed birthdays, Christmas and other special occasions."
"Veterans Day allows me to reflect on my time of service and the privilege of wearing the uniform," shared Vanessa. "I encourage fellow veterans to stay in contact with other veterans and lean on each other for support."
"Veterans Day is a reminder of what got me here today," Naseem said. "It's also about honoring the people that had served and made the ultimate sacrifice."
"For me, Veterans Day is a symbolic affirmation of my lifelong commitment to honor the sacrifices of my fellow service members," Reggie shared. "It serves as a constant reminder to uphold the values of honor, courage, and commitment in everything I do. To those stepping into civilian life, I advise prioritizing your physical and mental health and make sure to explore and understand all your VA benefits."
########
Célébration et hommage du parcours de nos agents vétérans militaires et hommage
Le 11 novembre est la journée des anciens combattants aux États-Unis et le jour du Souvenir au Canada. Pour honorer les hommes et femmes courageux qui ont servi leur pays, nous nous sommes entretenus avec plusieurs agents d'eXp Realty au sujet de leur service militaire et de leur transition vers une carrière dans l'immobilier.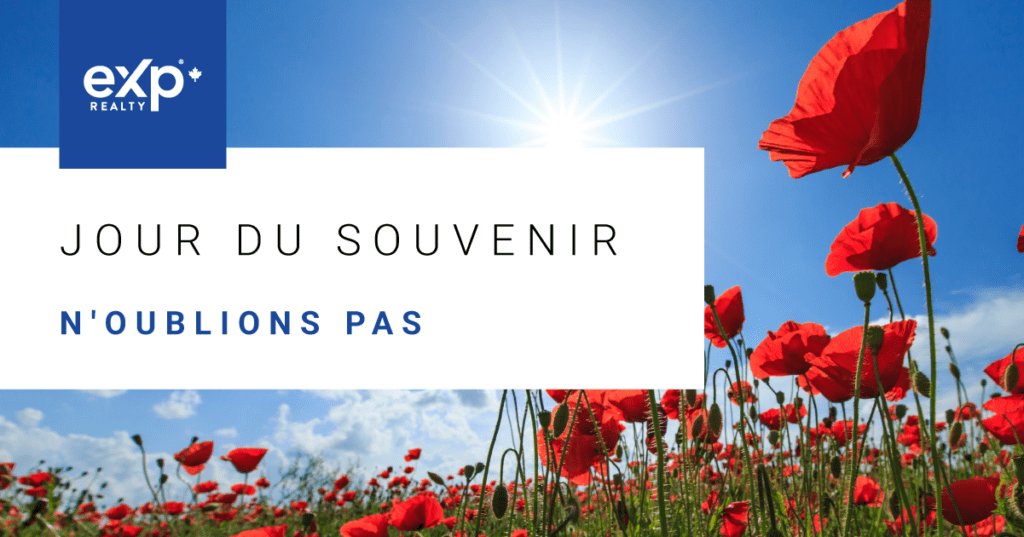 Lorsque nous leur avons demandé pourquoi ils avaient décidé de s'engager dans l'armée et comment le service militaire avait influencé leur vie, ils ont répondu que le service militaire était leur vocation, qu'il s'agissait d'un lien familial et qu'il était temps de grandir.
'' Je viens d'une famille militaire et on me surnomme communément une 'enfant de militaire '', a déclaré Vanessa Zink, une agente basée en Caroline du Nord. « Servir mon pays était quelque chose que je devais faire. ''
Reggie Moore, un agent en Virginie, a partagé qu'il avait été inspiré à rejoindre l'armée après les attentats du 11 septembre. '' J'étais animé par un profond désir de protéger ma famille, ma communauté et notre nation. ''
"Servir mon pays a eu un impact inattendu sur ma vie", a partagé Naseem Eissa, un agent dans l'Idaho. ''En m'engageant à l'âge de 18 ans, j'avais beaucoup de maturité à acquérir. Cela m'a fait passer d'un enfant immature à un 
jeune leader, et pour être un bon leader, il faut être encore meilleur..''
L'impact de l'immobilier sur leur vie
Plusieurs agents ont expliqué les raisons qui les ont poussés à se lancer dans l'immobilier, en déclarant qu'ils avaient pour objectif d'éduquer et de plaider en faveur de l'accession à la propriété par le biais de prêts VA pour les militaires, offrant ainsi aux membres des forces armées une formidable opportunité de constituer leur patrimoine, de préparer leur retraite et de créer un héritage.
'' Après le 11 septembre, étant un homme d'origine du moyen-orient travaillant sur des avions, mon père a été victime de discrimination. Il a été contraint de prendre une retraite anticipée, ce qui nous a laissés pratiquement sans rien », a déclaré Naseem. '' Je me suis promis que lorsque je serais en mesure d'acheter une maison, je le ferais. Après un déploiement à l'âge de 21 ans, j'ai immédiatement acheté une maison. J'ai pleuré parce que j'avais accompli le plus grand objectif de ma vie. C'est à ce moment-là que je suis tombé amoureux de l'immobilier.''
eXp Realty a également aidé les agents à faire la transition vers une carrière civile en leur offrant l'autonomie nécessaire pour créer leur propre marque dans le domaine de l'immobilier. '' eXp me fournit un accès facile à divers secteurs de l'immobilier et me met en contact avec des professionnels de premier plan, ce qui me permet de faire évoluer mon entreprise vers de nouveaux sommets », a déclaré Reggie.''
Naseem a salué EXPCON pour l'avoir aidé à établir des liens solides : ''L'environnement collaboratif m'a permis de rencontrer des personnes qui ont eu un impact direct sur la croissance de mon entreprise, qu'il s'agisse des personnes de ma ligne de parrainage ou les personnes que j'ai rencontrées à EXPCON.''
L'impact de la journée des anciens combattants et du jour du Souvenir sur leur vie
Plusieurs agents ont réfléchi à ce que signifie pour eux le jour des anciens combattants et le jour du Souvenir, ainsi qu'à la manière dont d'autres anciens combattants peuvent embrasser leur transition vers la vie civile.
Jennifer Maling, une agente au Nouveau-Brunswick, au Canada, a partagé l'importance que le jour du Souvenir revêt pour sa famille. '' Dans notre famille, c'est un jour toujours rempli d'émotion. C'est une occasion pour réfléchir et se souvenir des sacrifices consentis par plusieurs  de nos amis ainsi que les générations qui nous ont précédés. Mon mari et moi avons tous deux servi en Afghanistan et le jour du Souvenir nous portons nos médailles et nous nous rendons au cénotaphe pour rendre hommage, avec nos trois garçons, qui ont eux aussi fait un grand sacrifice en ayant des parents qui ont manqué des anniversaires, Noël et d'autres occasions spéciales. »
''La journée des anciens combattants me permet de réfléchir à mon temps de service et au privilège de porter l'uniforme », a partagé Vanessa. « J'encourage les anciens combattants à rester en contact avec d'autres anciens combattants et à se soutenir mutuellement.''
''La journée des anciens combattants est un rappel de ce qui m'a amené là où je suis aujourd'hui '', a déclaré Naseem. '' C'est aussi une façon d'honorer les personnes qui ont servi et fait le sacrifice ultime.''
''Pour moi, la journée des anciens combattants est une affirmation symbolique de mon engagement de toute une vie à honorer les sacrifices de mes compagnons de service'', a partagé Reggie. ''Elle me rappelle constamment que je dois défendre les valeurs d'honneur, de courage et d'engagement dans tout ce que je fais. À ceux qui entrent dans la vie civile, je vous conseille de donner la priorité à votre santé physique et mentale et de vous assurer d'explorer et de comprendre tous les avantages dont vous bénéficiez à  titre d'Anciens combattants.''