After 10 years leading their own individual teams at a big box brokerage in Hoboken, New Jersey, Darren Giordano and Andrew Sanderson have decided to join forces and create a dream team together, joining eXp Realty in early 2023 as the North Jersey Group. 
No Company Can Compete With the eXp Model
With over 800 sales, 2,500 rentals and $750M in combined sales volume, Darren and Andrew know they are in the right place to take their business to the next level.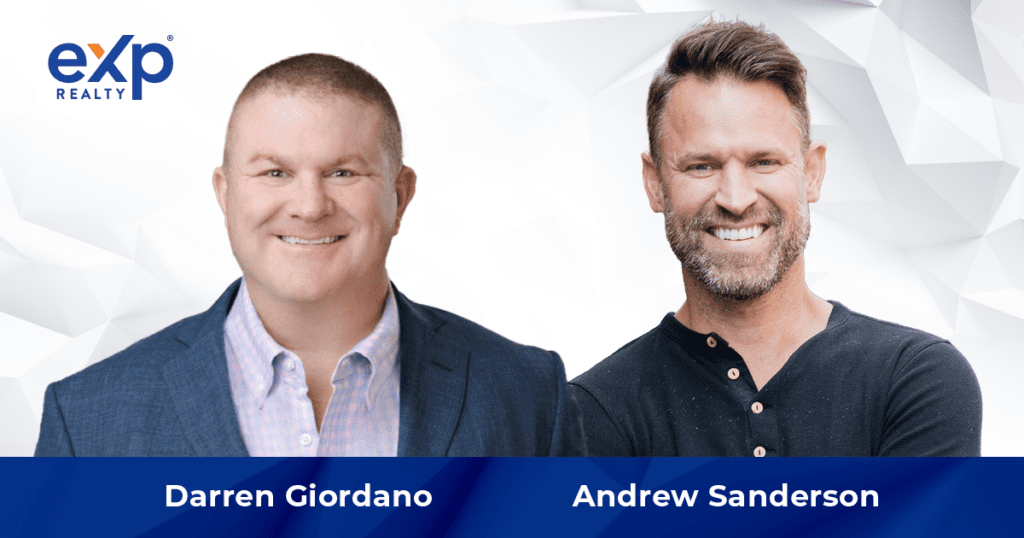 "We talked to many mega teams at eXp before making the move and each time we came away thinking, 'Why can't we do what they are doing?' The eXp model is almost too good to be true. Once we understood the value, it was a no-brainer to bring our team here," said Darren.
eXp Is the Future of Real Estate
The North Jersey Group's goal is to become a $100M-a-year team in the next 12 months and they know eXp is the only company that can help them get there.
> Read why revenue share has a bigger upside than profit share
"The low cap, revenue share, stock options, and technology give agents the opportunity to keep more money in their pockets. With our coaching, marketing, administrative support, education and masterminds, while having fun along the way, the North Jersey Group is poised for growth," Darren said.
Out of 12+ Years of Friendship Emerged a Fun, Dynamic Team
The duo came together from different backgrounds. Darren was in sales management for 12 years at two Fortune 500 consumer package companies and Andrew was with Brian David Realtors, a local mom & pop firm, where he earned a reputation as the "Rental King" brokering more than 500 rental deals in three years.
They formed a quick friendship and a couple of years later, they were the first two agents to join Keller Williams in Hoboken.
They built their businesses up and eventually, each started their own teams, the Giordano Group and the Sanderson Group. But, after 10 years they were approached by some friends who were thriving at eXp Realty and thought, "Wouldn't it be incredible if we can build a big team together focusing on providing the very best customer service across all of Northern NJ?" 
They founded the North Jersey Group, a team that could service clients from Hudson County to the suburbs, and work with agents who saw this trend of people migrating as they started families, downsized and were relocating for work.
Aligning With the Fast Forward Movement Was Key
In joining eXp, Darren and Andrew were very attracted to the Fast Forward Movement group led by eXp agents Kyle Whissel and Daniel Beer. They also saw the success of eXp Realty agent Brett Sikora, a Hoboken friend who they worked with at KW who built his business from $40M to $300M. 
"Brett was always a guy that we liked and respected. We saw his growth and knew we had an opportunity to grow and be aligned with agents who have a vested interest in your success," Andrew said. "I always loved going to the two major conferences a year at KW, but they started to feel stale."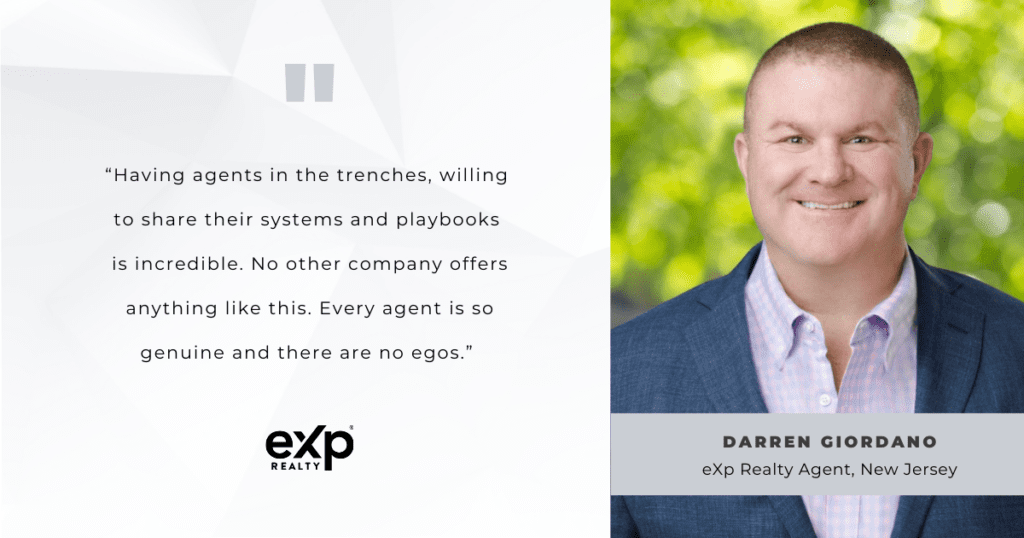 The North Jersey Group has a weekly Monday mastermind that discusses three topics from agents doing $5M to $700M to scale their business. 
"Having agents in the trenches, willing to share their systems and playbooks is incredible. No other company offers anything like this. Every agent is so genuine and there are no egos. In the past, I would go to these events and go through a lot of trial and error. This group takes the trial out and you get to your goals much faster, hence the Fast Forward name," said Darren.
Three-tiered Coaching Model to Ensure Success
The North Jersey Group takes a systematic approach to coaching. Darren is the team leader who oversees each agent's business goals and strategies. Darren conducts monthly one on one meetings, figures out what agents' prospecting strengths are, and helps each agent get to their goals. 
Andrew is the team listing and investor specialist. He shares his insights with the agents on how to gain and close more sellers and how to grow and scale the Investor pipeline, two of the keys to his great success. 
Michael Dengelegi is the team productivity coach with a focus on buyers and social media. 
"Having Michael as our productivity coach is huge for our team. He started on my team as a brand-new agent three years ago and in that time, he's sold $30M worth of real estate. He plugged into our systems and is a great resource for agents looking to take their game to the next level." Darren said.
__________
Interested in joining the fastest-growing real estate brokerage on the planet? Learn how eXp Realty puts agents first.