Scott Brown admits his slow, Texas drawl was off-putting in landing jobs early in his career. But it belies his innovative spirit and energy, who at 59 years young, founded seven different home and real estate-related businesses along the way. Now, after 24 years of running his independent brokerage – Real T Team – Scott and his agents will be partnering with eXp Realty.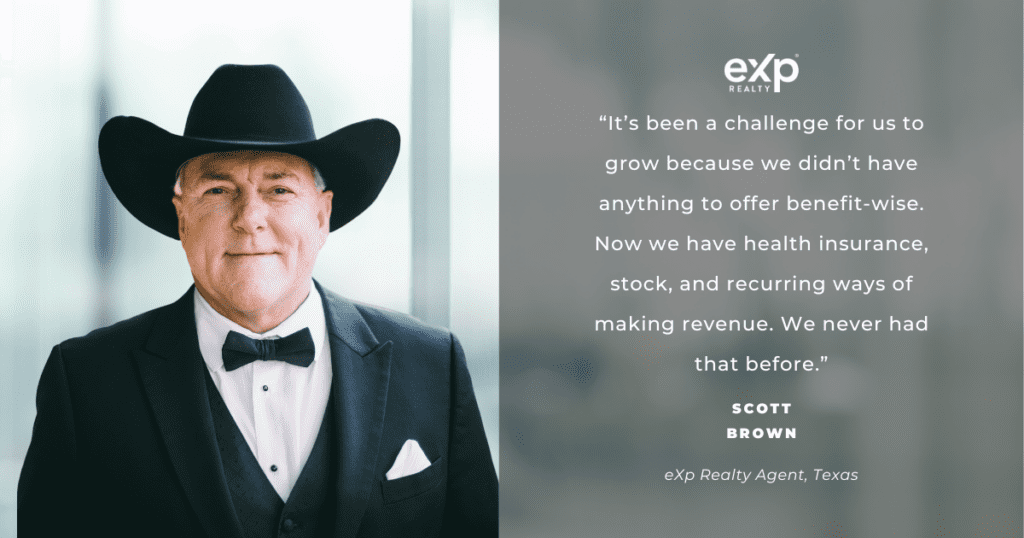 "It's been a challenge for us to grow because we didn't have anything to offer benefit-wise," said Scott. "Now we have health insurance, stock, and recurring ways of making revenue. We never had that before."
> Read why revenue share has a bigger upside than profit sharing
Joining Scott in his move to eXp are his 34 agents – a tight-knit team that generated $164,319,359 in sales volume on 423 transactions in 2022 for an average of $325K per home. "At one point I grew my company to over 120 sales agents. It's been a crazy ride," he said.
Scott Has 7 Businesses Including Realty, and Has Plans to Build a Hotel
In addition to his Real T Team, his business empire includes a commercial division, a residential property management company, an HVAC and landscaping company, as well as maintenance, insurance and appliance companies. And now his goal is to build a hotel in downtown Denton because none exists.
"The Brown on the Square," as it will be called, is a reflection of his love for his hometown of Denton, where he is a fifth generation of Browns who have made Denton and Denton County their home. His mom was an interior designer and his dad, who owned a body shop and bought rental properties on the side, taught Scott how to invest at an early age.
"When I was a senior in high school, for graduation, he gave me a choice: $10K in cash or a new car. I chose the money and bought my first rental."
While attending college, Scott rented out bedrooms to friends and also drove a school bus to make ends meet. He also invested more, buying 10 rental houses during his college years.
After graduating, he held a series of jobs – Mervyn's Department store, Texas Instruments ("I thought I would retire there") and a warehouse job at a chemical company. After a few years of working the graveyard shift and exposing himself to potentially toxic substances, a buddy of his advised him in 1992 to get his broker's license so he could start his own property management company. Scott took the advice and then in 1999, started his real estate business.
His businesses have captured the minds and hearts of the Denton community in which his property management and commercial businesses have either won or placed as a finalist in the Best of Denton County voting since 2013. Scott also won the Heart of Hope Award in 2016 from Giving Heart Inc. for showing exceptional support and donations to the organization.
And Then, the Tables Turned on Scott to Join eXp
Scott and his team ultimately joined eXp in a funny turn of events. In early 2023, his longtime designated managing broker gave her two-week notice and Scott needed a replacement. He tried to recruit eXp Realty agent Lauri Bauman to fill the role and instead, she recruited him to join eXp. 
"I was calling her (Lauri) to see if she wanted to interview for the job and she turned the tables on me and convinced me to go with eXp. That saved me a salary!"
Lauri says that she didn't do a hard sell on Scott – she wasn't even looking to recruit him to join eXp. But because she knew Scott (she worked at his brokerage in the past), she knew he was less enamored with the administrative side of brokering.
"I told him that I think (joining eXp) would be good for you. They would do all the things you don't like to do – the administrative side. Then you don't have to hire someone, pay a salary or keep staff." 
eXp Will Usher In a New Chapter for the Real T Team
Scott also appreciates eXp's tools and technology, which will help his agents work from home more easily. But, he also feels that joining eXp, it will bring new, young talent onto his team. He is surrounded by a couple of key people to get him there, such as his right-hand person and Real T agent, Ashton Young and marketing director Torrey O'Brian.
Torrey shares an anecdote about Scott that is a testimony to his hands-on commitment to his people and companies.
"For the first year that I worked with Scott, he would stop by my office every single day – without fail – and say the exact same thing, which was, 'Hi there! How's it going today?' He would listen as I talked about my day or the tasks I was working on, and he would ALWAYS say, 'Well hang in there! You're doing a fantastic job!' To me, it's really a testament to his character. He genuinely cares about people, especially those he surrounds himself with and loves to see those individuals succeed – both personally and professionally."
Ashton wholeheartedly agrees.
"Scott makes his rounds every day (to each office) checking in and encouraging us.  He is an amazing leader and truly cares for each of us.  Our company has a motivating positive culture.  He's created an environment of trust, collaboration, and support.  Some employees have been here over 20 years!"
__________
Interested in joining the fastest-growing real estate brokerage on the planet? Learn how eXp Realty puts agents first.