For teams looking to build, grow and get valuable support to expand their real estate business, eXp Realty has the perfect opportunity – Thrive. This program is the third incentive program launched this year by eXp Realty, the others being Boost, which is designed for independent brokerages, and Accelerate, for individual agents.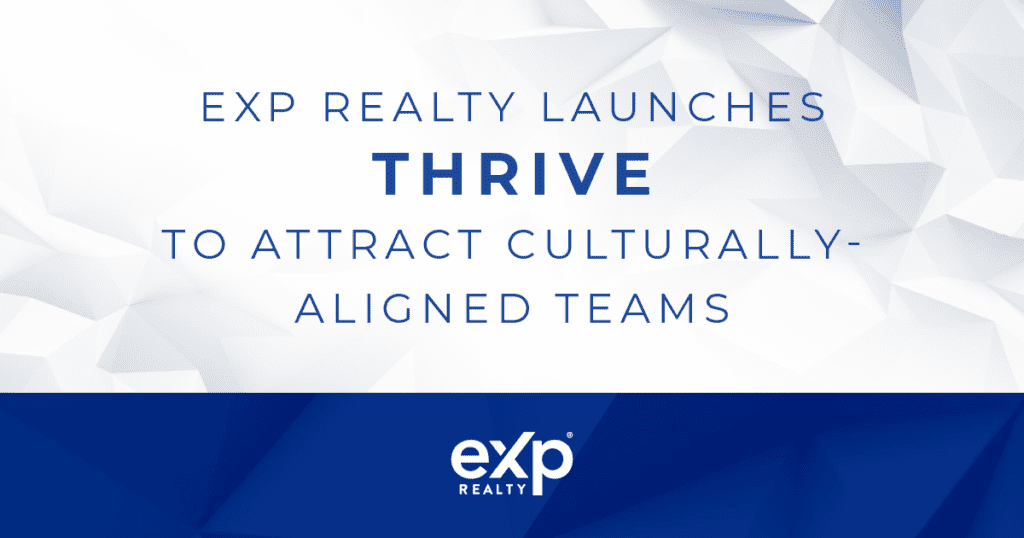 Thrive, currently available in the U.S. and Canada and soon expanding to our other international markets, subject to applicable local laws, was built as an incentive for teams interested in transitioning to eXp Realty who are culturally aligned with eXp Realty's culture.
What Are the Benefits of Thrive?
Being a team leader is exciting, but there are always challenges and pain points that can compromise growth and fulfillment. Producing teams who join under Thrive can look forward to the following benefits:
Equity incentives: Thrive provides an incentive model for a team's move to eXp Realty. Once onboarded, the new team will qualify for an equity award based on their 12-month production prior to joining eXp Realty and the hypothetical retained company dollar that would have been paid during that period. Once onboarded, the new team lead will be granted an equity award that vests after their first three years with eXp Realty, according to the team's average retained company dollar during the first three years.
Team training: As part of the cultural alignment with eXp, teams will be given training to learn eXp's innovative model and fully "plug in" and integrate with all the resources and community available to them. 
Support: Teams will receive administrative and operational support, access to world-class technology, tools and more during the transition and after joining eXp. 
And more!  Additional benefits include revenue share opportunities and an attractive commission model.
Who Qualifies for Thrive?
Producing teams with more than 10 agents (in addition to the team lead) and a minimum of $40 million (US/CAD) in sales volume in the originating country over the previous 12-month fiscal period can qualify for Thrive. (Additional qualifications apply. International qualifications to be released.)
Other team criteria:
Must be culturally aligned with and committed to adhering to the eXp Realty model.
Must be invested in their team's continued growth with eXp Realty.
Must participate in the eXp Realty revenue share program.
Must agree to incentive and retention terms and timelines. 
Once each of these has been agreed upon, eXp Realty still retains the right to determine which teams qualify for the Thrive program and the nature and terms of the financial incentives.
Ready To Thrive? Fill out this short form to get started.
Why Is eXp Realty Offering a Program Like Thrive?
eXp Realty is committed to continuously pushing the real estate industry's boundaries in its quest to be the most agent-centric brokerage in the world. By providing its agents and brokers with a unique and empowering cloud-based platform, plus attractive compensation model, it will continue to attract like-minded agents and leaders who will help shape and grow the company.  
___________________________
Interested in jump-starting your real estate career? Learn how eXp Realty puts agents first.