eXp Realty is known for its collaborative spirit, as well as its robust training and education programs, supporting agents of all experience levels. One very popular program is eXp's Mentor Program, which helps new agents get matched with an experienced eXp Realty agent to help guide them – not only in real estate – but also in navigating all the tools and programs eXp Realty offers.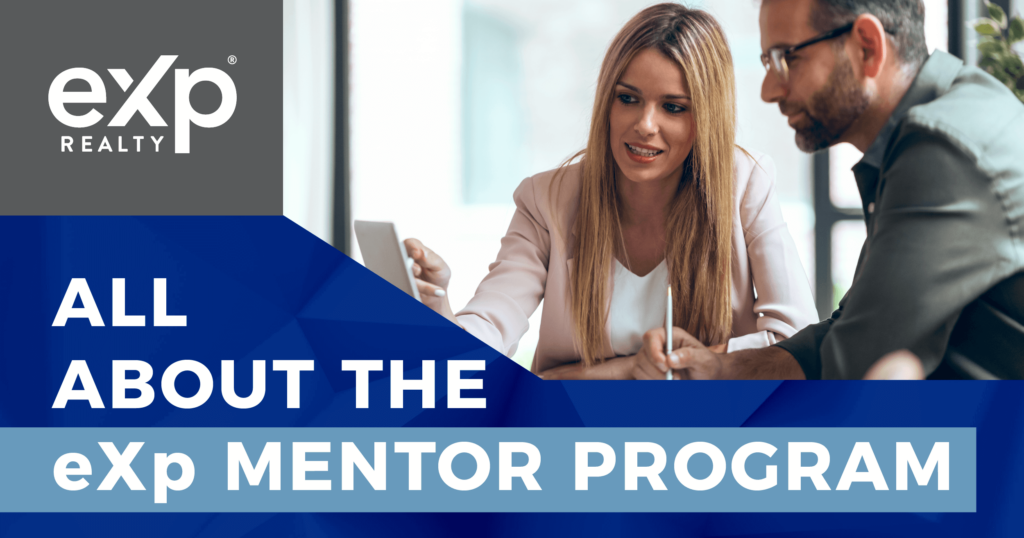 How the eXp Mentor Program Works:
Any agent joining eXp who has less than three transactions in the last 12 months in their respective state (mentees), will be matched with a certified eXp Realty estate agent (mentor) who is geographically located close to the new agent and within the same MLS. (Different requirements apply in North Carolina and Washington states. Please email the [email protected] with additional questions pertaining to these state's requirements).
>See why collaboration is at the heart of eXp Realty's agents
Mentors are certified and will provide their mentees guidance in a practical, hands-on manner to lead them in the early stages of their careers. Mentees and mentors will connect weekly or as needed to review issues as well as work through a learning platform (i.e., the GO! Mentee Curriculum). Additionally, mentors will provide shadowing opportunities, offer support during transactions and stay active and engaged with their mentees so they gain the fundamental knowledge required to start and build a successful real estate career. 
What Is the GO! Mentee Curriculum?
The GO! Mentee curriculum is a robust two-part program to get mentees up-to-speed on real estate and eXp Realty. This curriculum provides new agents with the fundamental knowledge required to start and build a successful real estate career. It incorporates content and feedback from mentors, brokers, the eXp University team and mentor program staff.
It was designed to build conversations, training and experience around core competencies to ensure mentees graduate with a more holistic and in-depth baseline of foundational information, skills and strategies. Mentees are automatically enrolled in the GO! Mentee Curriculum.
The course is broken down into two parts:
GO! Joining – This is offered to agents as they join, prior to license transfer which includes: eXp Fundamentals Module; Welcome to the Mentor Program Module and State-Specific Mentor Content Module.
GO! Curriculum – Once an agent has become active and is paired with a mentor, they take eight courses that cover basic real estate fundamentals.
What Topics Does the GO! Mentee Curriculum Cover?
The GO! Mentee Curriculum covers onboarding, the eXp Realty fundamentals and state-specific information. Once completed, mentors work with mentees on completing the following classes:
Session A – GO! Buyer-Focused Fundamentals
Session B – GO! Sales & Business Planning
Session C – GO! Real Estate Fundamentals
Session D – GO! Lead Management
Session E – GO! Appraisals & Valuations
Session F – GO! Working with Buyers
Session G – GO! Working with Sellers
Session H – GO! Social Media Marketing
Requirements for a Mentee to "Graduate"
In order for a mentee to graduate from the mentorship program, they must:
Complete 3 transactions with a mentor. (Some states require more transactions.)
Successfully complete the GO! Mentee Curriculum
Attend at least 50% of all state meetings
Attend weekly eXp agent leadership meetings
In addition, mentees will pay 20% on all transactions required for graduation (10% to eXp and 10% to the mentor).
How eXp Realty Agents Become Certified Mentors
eXp Realty agents can apply to be a mentor in their state and approval is dependent upon the state broker team and fulfillment of the following requirements:
Completion of at least eight real estate transactions within the last 12 months.
Completion of at least two transactions within the eXp Realty system.
Complete all required certification steps, including a 1-2-hour course.
Attend at least 8 of 12 monthly Mentor Mastermind Workshops held in eXp World.
Attend at least 50% of their respective state meetings.
Once the course and requirements are completed, an agent will be added to the Mentor Workplace Group where additional resources and information is available. Currently, eXp has over 7,000 mentors and 23,000 mentees in the program. 
eXp Realty Agents Explain Why They Sign Up to Be Mentors
"The goal of the Mentor Program is to bypass a lot of the struggles new agents go through and to have someone by their side to learn their business quickly and to close a lot more transactions. That's what I do love about the Mentorship program. I also love that when a new agent gets started, they have a person as a guide, which is extremely important — especially when you need to have questions answered quickly," said eXp Realty agent Karla Jones Wilson of Bradenton, Florida.
John Clark, from the Dayton Home Team said, "The Mentorship program is pretty selfless if you think about it. You spend a number of years working on your business and craft and now you're considering sharing that information with brand-new or struggling agents to get them on the right path. We are seriously making waves and changing the industry. We're sending people out to do the right things, the right ways, which is ultimately taking care of the community as well." 
Likewise, Mentees Love the eXp Mentor Program
"Yes, we get our license through a school — whichever school we go to, but you do not learn how to utilize that license in the real world to get the deals. And that's where a mentor comes in. Anytime I had a question, he was there for me or if he didn't know, he would point me in the right direction. Also, there are going to be moments when you're going to feel doubtful — like, is this the right field for me? But in my case, he was more determined to make sure I don't feel that way or quit. I think everyone should have a mentor. It's an amazing idea," said eXp Realty agent Kimmi Daley of Springboro, Ohio.
"They pair you with a mentor who is from your area that you can chat with, meet up with, do open houses with just to get a little hands-on as well as create a learning module that you're required to go through. My favorite part of the learning module is that not only do they teach you the next steps with real estate because I know as a new agent that can get confusing and you don't really know what to do at first. So it's nice that they give you step-by-step instructions on what you should be doing. They also give you a lot of tools to start goal-setting and prioritizing your time. I think the Mentor program is a super great tool for anybody who is brand-new to real estate," said BillieJean Brown, an eXp Realty agent located in Honolulu, Hawaii.
__________
Interested in jump-starting your real estate career? Learn how eXp Realty puts agents first.