In eXp Realty's constant quest to provide its agents with all the tools, systems and support they are asking for, a new idea has sprung up: Regional Rallies. Starting in November, eXp Realty agents will lead and host Regional Rallies in 28 locations in the U.S. and Canada to recognize, engage, inspire and educate fellow eXp Realty agents.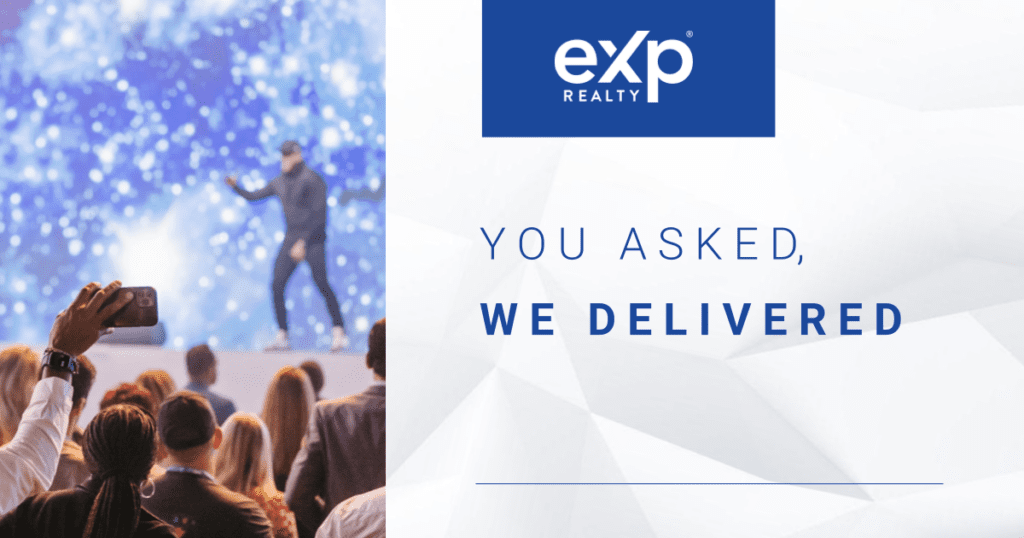 Regional Rallies originated from a grassroots effort that Nashville agents Jay and Ashley Nelson launched with leadership support in March 2023 to great success. They presented the idea to eXp leadership to extend this concept across the country to help other eXp Realty agents be recognized and celebrated and it was quickly embraced.  
"These rallies are for ALL agents," said Jay and Ashley in one of many YouTube videos promoting November's rallies. "We want everybody coming together and celebrating each other, and learning from ICON agents who are opening up their playbooks, telling you what they do and how to be successful."
eXp World Holdings Founder, CEO and Chairman Glenn Sanford took the stage at EXPCON 2023 to announce Regional Rallies to a room of over 4,000 agents. "We continue to iterate on our value proposition and do what's right for our agents. eXp agents are now hosting Regional Rallies annually – events led by agents, for agents to recognize each other's milestones."
About Regional Rallies and How They Work
Starting in November, eXp Realty agents will host and lead rallies in their region across the U.S. and Canada for their eXp Realty colleagues. Each agent-led event will be supported with comprehensive toolkits prepared by eXp Realty's marketing team to ensure every single Regional Rally is an inspiring and successful experience for all attendees. 
The goals of the rallies are to:
Recognize: Milestones will be celebrated at varying phases of an eXp Realty agent's journey, from Rookie Rockstars who closed their first sale ever to those who capped and ICONs. 
Motivate: Jam-packed agendas will be filled with inspiring ICON speakers who will share best practices and career-earned wisdom. Attendees will be equipped with newfound learning to implement into their business plans.
The cost to attend a rally is $39 for Early Bird tickets and attendees will spend a day networking and recognizing their fellow eXp agents' milestones, listening to inspiring speakers, and connecting with top-producing agents. Food and beverages will be provided.
To see Regional Rally locations and get your ticket, click here.
About the You Asked, We Delivered Campaign
Regional Rallies is part of eXp Realty's agent-centric "You Asked, We Delivered" campaign in which eXp leadership welcomes agent feedback and finds solutions to help its agents succeed at the highest level of success both personally and professionally. 
Currently, other You Asked, We Delivered solutions include:
________
The "You Asked, We Delivered" campaign is a cornerstone of eXp Realty's mission to be the most agent-centric brokerage on the planet. eXp Realty pays close attention to agents' feedback, finding solutions designed to help them succeed at the highest level of success both personally and professionally.