It takes a savvy real estate agent to scale their real estate business in the middle of a population boom. That's exactly what Alicia Trevino has done at Alicia Trevino International in the heart of Texas – a state that gained nearly 10 million residents since 2000.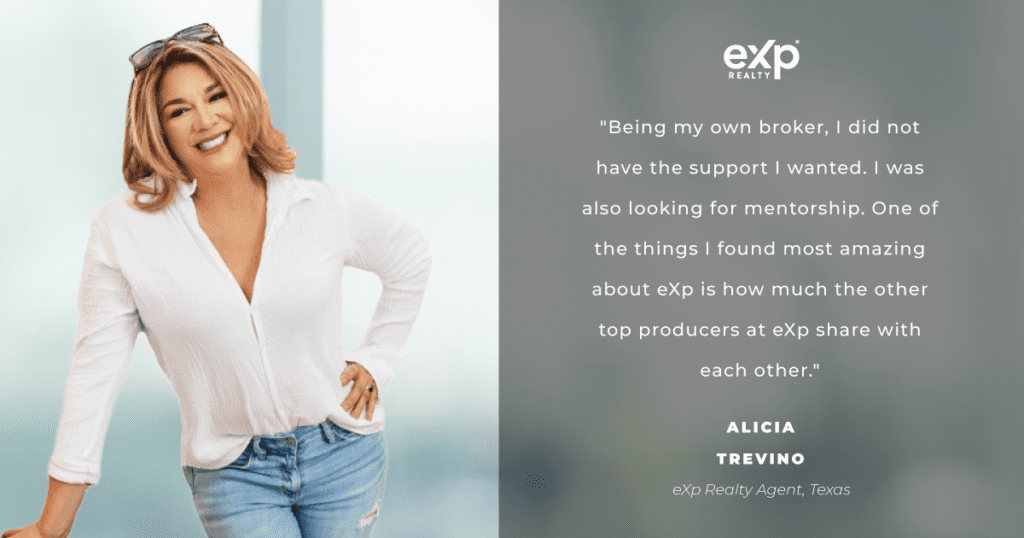 "To accommodate the dramatic increase in daily referrals and new business, as well as the explosion of growth in Eastern Dallas, Kaufman and Rockwall Counties, I expanded my trained staff and opened a state-of-the-art sales and marketing center in Mesquite, Texas,'' Alicia said.
Ranked in the Top 1% in the nation by Inman, and listed Best in Client Satisfaction by Dallas Monthly magazine, Alicia is no stranger to high-volume real estate sales. But there was something more Alicia Trevino International did to take her business to the next level. 
> Read 15 reasons why independent brokerages are flocking to eXp Realty
In 2022, she moved her independent brokerage to eXp Realty. This veteran broker could not be more pleased. For the first time, she has a built-in network of support and cutting-edge technology at her disposal. 
What This Veteran Broker Loved About Moving to eXp 
"Being my own broker, I did not have the support I wanted. I was also looking for mentorship. One of the things I found most amazing about eXp is how much the other top producers at eXp share with each other,'' she said.
> Read why revenue share has a bigger upside than profit sharing
Alicia was also ready to have her financial rewards increased. At eXp, the stock options she earns and the revenue share she creates as she recruits independent agents to her powerhouse team have been a total win. She is building her team and bolstering her business.
"These new agents are benefiting from the mentoring I can offer sharing my ideas and marketing skills to help them launch successful careers. My goal is to have the top echelon of agents working for the benefit of our clients,'' she said. 
Learn More About Alicia Trevino:
Years in real estate: Since 1989.
Gross sales and transactions: Currently, $17 million and 72 transactions in 2023.
Brokerage history:
eXp Realty (Sept. 2022-current)
Alicia Trevino International Independent (2019-Sept. 2022)
Century 21 Alicia Trevino Realtors (2009-2019)
Alicia Trevino Realtors Independent (2004-2009)
Coldwell Banker Apex (1996-2004) 
Century 21 A Action (1989-1996)
Main territory: Dallas County
Main focus:  Residential home sales, new construction, light commercial property
Number of people on team: 6 team members
Accolades, accomplishments & awards:
Ranked #1 Agent in Texas by Century 21
Ranked Top 10 in Nation by Coldwell Banker
Ranked #1 Female Agent by NAHREP Top 250
Voted Best Realtor by "D" Magazine 7 years in a row
Named Super Star Agent by Texas Monthly Magazine
Voted "Best in Client Satisfaction" by Fort Worth Business Press
Ranked among the top 100 Realtors in the Nation for Realtor Magazine
Ranked #17 in the Nation for Top Selling Teams in Units sold by Trends Magazine
Industry positions:
Served on DFW Realtor Association Board of Directors
Served on Texas Association Board of Directors
Served as DFW Board of Realtors official media spokesperson
Certified Women's Business Enterprise National Council
Served on National Board of Directors for NAHREP
Served as Dallas Chapter President for NAHREP
10 Fun Things About Alicia Trevino
What is your idea of perfect happiness?
A peaceful home.
Who is the person you most admire?
My grandmother.
One thing you can't live without?
Cuddling.
One trait that has led to your success?
Persistence.
What celebrity would play you in a movie or TV show?
Jennifer Aniston.
Pet peeve?
Not following through.
Little known fact about yourself?
I lived in Mexico with my grandfather when I was a baby up until 5 years old.
Song you never tire of?
"Last Christmas" by WHAM!
Favorite meal?
Filet mignon at Capital Grille.
Your epitaph will say:
She believed in everyone.
__________
Interested in jump-starting your real estate career? Learn how eXp Realty puts agents first.