The unveiling of eXp Realty's new nationwide listing platform, eXp Exclusives, inspirational keynotes delivered by high-performance coach Brendan Burchard and real estate analyst Mike DelPrete, the launch of the eXp Marketing Center's innovative new listing kits, and a celebration to honor eXp's award-winning agents took center stage at EXPCON 2023, an action-packed event focused on agent development, technology, and AI.
Thousands of eXp Realty agents, staff, and media attended the energetic and insightful four-day conference at the Mandalay Bay Resort in Las Vegas, Nevada to learn, network, get inspired, and hear news about eXp Realty's future outlook.
Some highlights from EXPCON 2023 include:
5,348 in attendance
More than 100 breakout sessions
58 sponsors
15 countries represented
700+ eXplorers
Monday Kicked Off With Gracie University, Expo Hall, XCamp and Welcome Reception
The event kicked off with three 90-minute energetic situational awareness and defense training sessions led by the world-renowned Gracie University, celebrated for its comprehensive approach to Brazilian Jiu-Jitsu that emphasizes empowerment and confidence.
To help agents navigate the often unpredictable situations they find themselves in, the sessions focused on how to approach every scenario with confidence while prioritizing safety.
The Expo Hall was buzzing with activity as booths were set up, offering information to help eXp Realty agents build their business.
The afternoon featured a rousing edition of XCamp, the "unconference conference" that is designed by eXp Realty agents, for its agents. Co-hosted by eXp Realty agents Elizabeth Riley and Keith Duble, the event got off to an energizing start with 10 themes chosen. Artificial Intelligence was is the hottest topic of the day, and the dedicated breakout session on leveraging its potential – led by Michael Weisman, Ben Weisman and Rick Janson – was both interactive and brimming with valuable tips and insights.
The evening came alive with a tech-themed welcome party hosted in a ballroom of Mandalay Bay, drawing a crowd of thousands. Attendees enjoyed a spread of drinks and bites, all while being enchanted by futuristic lighting, entertainment and immersive installations. From a DJ spinning music inside a lighthouse to the colossal eXp World Cup installation and even a pirate ship, the event offered a captivating atmosphere that served as both a heartwarming reunion for old friends and an opportunity to forge new connections. This electrifying kickoff set the tone for an invigorating start to the conference.
Tuesday: Highlights Include eXp Exclusives, Listing Kits, and Mike DelPrete Keynote
An all-consuming laser light show and an equally electrifying drum group brought the energy and a futuristic feel as the first EXPCON 2023 general session opened on Tuesday in Las Vegas and was filled with announcements that will keep eXp Realty's fast-paced growth on track.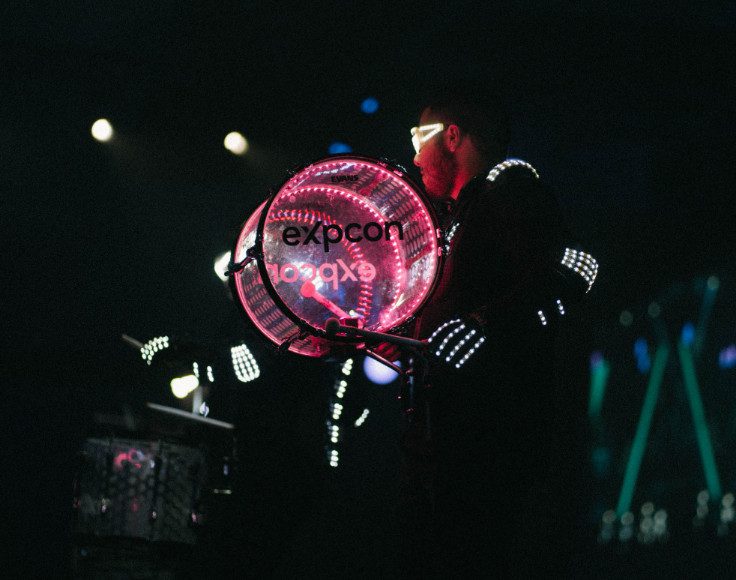 CMO Carolyn Merchant announced the launch of the Listing Presentation Kit — a package that eXp Realty agents can use to present a property's marketing strategy to clients. Alternatively, the Active Listing Kit can be utilized to market a property. (Read the press release here.)
Chief Strategy Officer Leo Pareja and Chief Growth Officer Michael Valdes delivered a "State of the Market and eXp Realty" segment, which addressed the existing housing market and what's to come in 2024.
Leo also announced the launch of eXp Exclusives, which will offer pre-market and off-market listings to eXp Realty agents and their clients. Leo emphasized the importance of rolling out innovative products and services like this to help grow eXp Realty's agent base.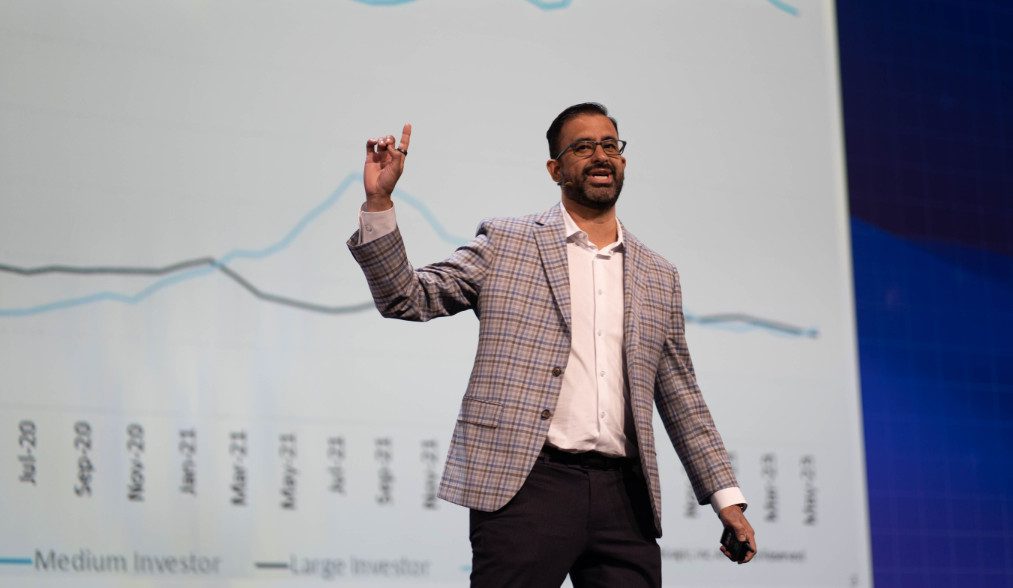 Mike DelPrete, who is one of real estate's most important voices, took the stage to deliver his keynote. DelPrete has emerged as a respected real estate industry thought leader in recent years, whose evidence-based analysis and data result in highly anticipated insights that dissect real estate trends. In his keynote, he said, "Disruptors like eXp are thriving over traditional brokerages." Read his keynote here.
eXp World Holdings Founder, CEO and Chairman Glenn Sanford, along with Carolyn Merchant, Michael Valdes, and Leo Pareja, celebrated the outstanding production achievements and contributions of nearly 90 eXp Realty agents in 2022. Individual agents were recognized based on sides, GCI and volume in the U.S., Canada and internationally.
Tuesday afternoon's breakout sessions featured multiple tracks, with content geared for agents new to real estate, to seasoned agents to team leaders. Popular topics included AI, lead generation, social media, and building your brand.
For Premier Pass (VIP) ticket holders attending EXPCON 2023, Day 2 included sessions headlined by real estate analyst Mike DelPrete, real estate leader Kendall Bonner, an eXp executive leadership panel, and bestselling author Michael J. Maher.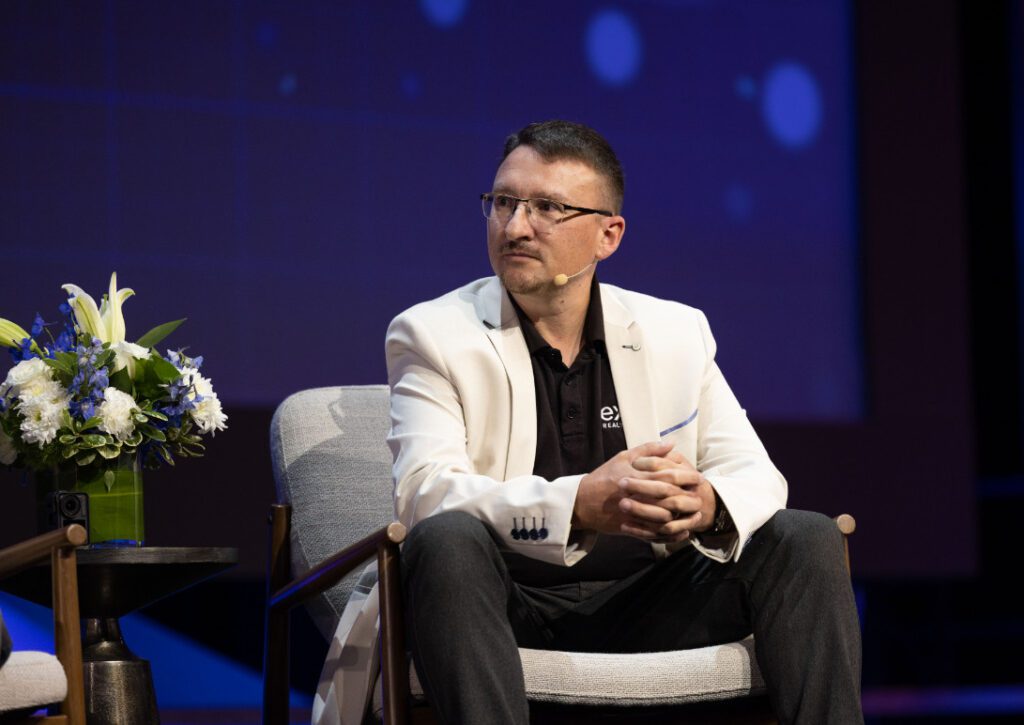 EXPCON 2023 also offered more certification courses than ever before; Tuesday afternoon included Affinity Certifications part 1 and 2, as well as Reimagining ExpressOffers.
Wednesday: Highlights Include AI Panel, Production Awards, and Brendan Burchard Keynote
eXp Realty agents Blake Cory and Denise Mai were the day's general session hosts and started things off quickly by announcing names of many new eXplorers who joined eXp (non-eXp agents attending EXPCON), bringing the total to 21 new agents so far.
Special recognition was given to eXp Realty agents in three categories:
ICON of the Year was Michael Weisman
Jeffrey Buettner Philanthropist of the Year was Oregon's Luna Mariah Dietz
Humanitarian of the Year was California's Jon Pugh
Woman of Influence was Veronica Figueroa
Team awards were presented for units, sales volume and GCI in the U.S., Canada and globally. To see the top team awards, click here.
In a much-anticipated panel discussion, eXp Realty agents Gogo Bethke, Veronica Figueroa, Mike Sherrard and Carrie Soave took part in a lively conversation about the hottest new thing in real estate: AI (artificial intelligence). The panel was moderated by Seth Siegler, VP Technology Innovation & Real Estate.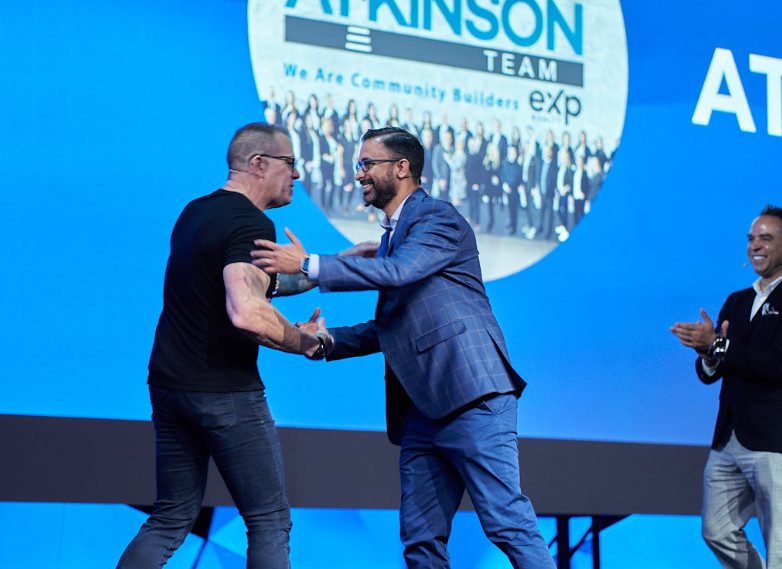 Brendon Burchard, a high-performance coach who is also a three-time New York Times bestselling author, and one of the most-watched, quoted, and followed motivational speakers in history, gave the keynote to an energized audience who gave him a standing ovation. Read Brendon's keynote here.
"What is it that makes someone high-performing," Burchard asked the cheering audience. "Today I am going to give you their mental playbook." The highest-performing people practice high-performing habits on a daily basis, he explained. He then outlined his rules for success, grounded in raising your ambition.
Wednesday's general session also included an 'Agent Success Obsessed' panel; 'You Can Be Anywhere You Want in 5 Years' presented by Jon Pugh; a luxury panel; top teams panel; an agent address on being relatable; and a conversation on the 80/20 rule with Glenn Sanford and Dan Beer. You can read full coverage of Wednesday's general session here.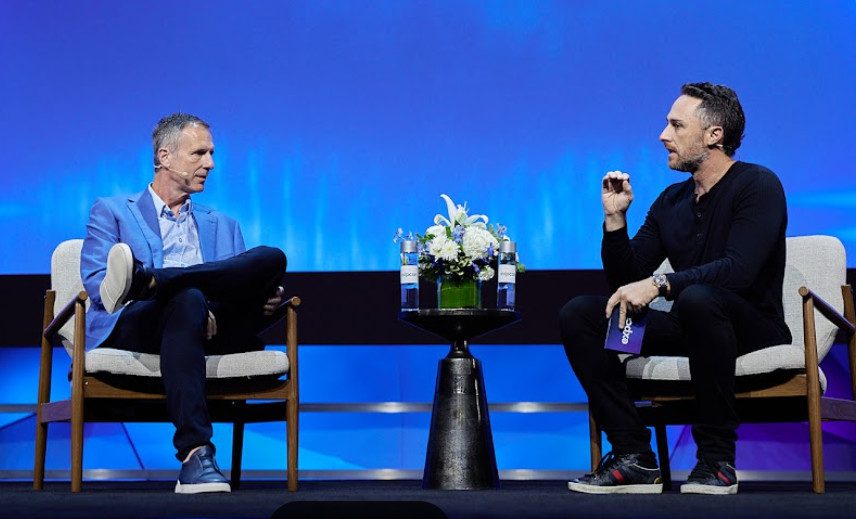 General session was followed by afternoon breakout sessions. One of EXPCON's breakout paths is Path to Production and on Wednesday, the path focused on Artificial Intelligence (AI). There was also a packed agenda in Path to Achievement, where the focus was leadership and team culture.
Thursday: Highlights Include eXtend a Hand 5K, Breakout Sessions, and Ending Bash
The final day of EXPCON kicked off early with the eXtend a Hand 5K Fund Run, starting on the grounds of Mandalay Bay and winding its way through the iconic Las Vegas Strip, offering participants a memorable backdrop for this early morning run/walk.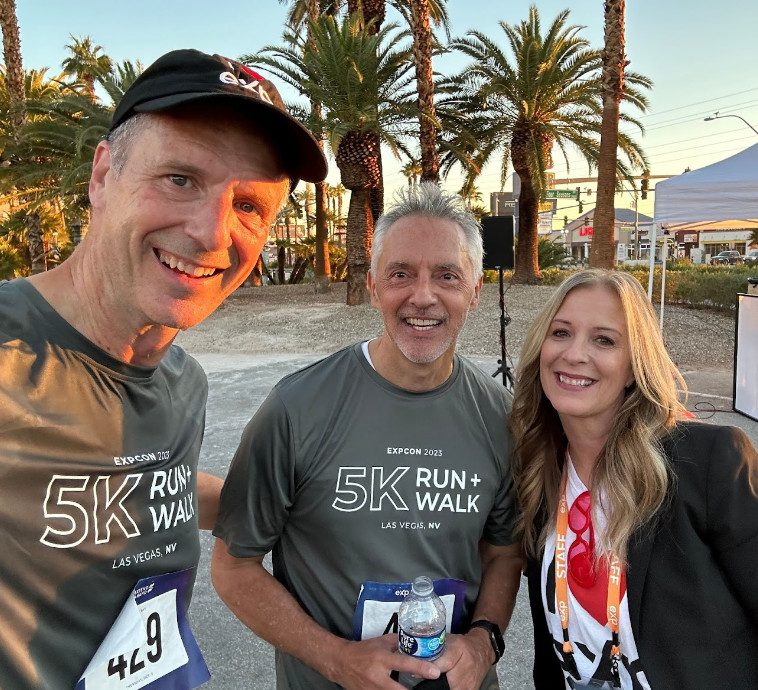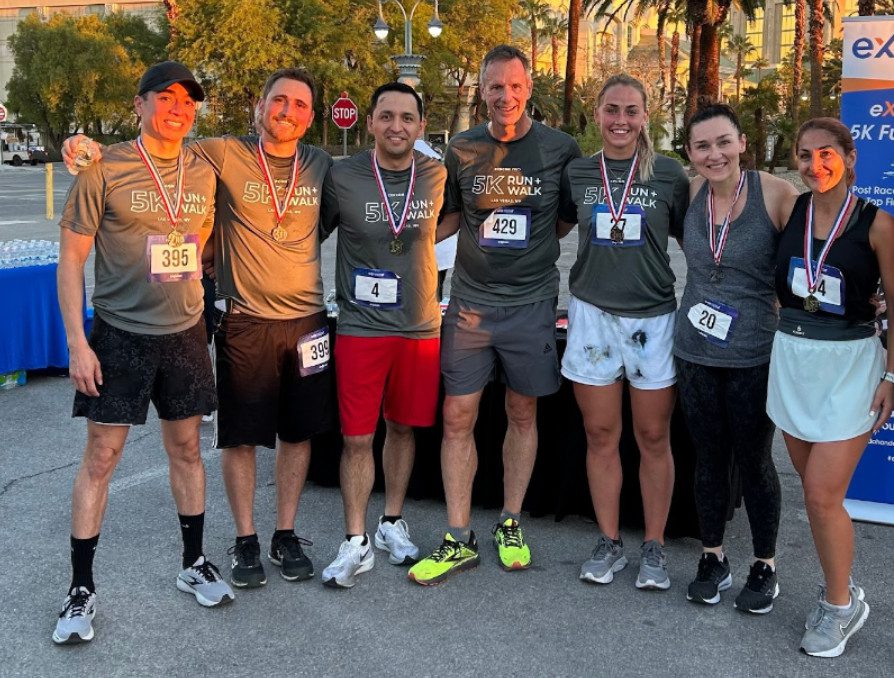 Several company executives including Glenn Sanford, Michael Valdes, Carolyn Merchant, Leo Pareja, newly appointed Chief Learning Officer Bryon Ellington, General Counsel Jim Bramble and  Chief Operations Officer Patrick O'Neill participated alongside over 300 registrants. The run raised close to $24,000 for eXtend a Hand, which provides financial assistance and support to those in need within its agent and staff community.
The top finishers are: 1st place – Jaime Resendiz; 2nd – Eddie Rodriguez and 3rd – Riley Searle. Top women's finishers were: 1st place – Donika Parker; 2nd – Haley Jones and 3rd – Shannon Sullivan.
On the final day of Momentum – Path to Success, attendees heard from several experts in both real estate and athletics as they drew parallels between success in the field and on the court to success in the real estate industry. Attendees were inspired to focus on mental wellness and safety, adopting the tools and mindset to overcome any obstacle.
The day wrapped with afternoon breakout sessions featuring the topics of leadership and legacy in the Path to Achievement track.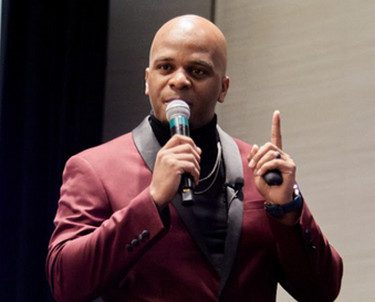 The event culminated in a spectacular closing party hosted at the renowned OMNIA nightclub, providing agents with a fitting grand finale to the festivities. As the night wore on, the closing party not only marked the end of a fantastic event but also served as a testament to the spirit of unity and enthusiasm that had characterized the entire gathering. It was a celebration of achievement, a testament to the community's strength, and a promise of exciting endeavors to come in the world of real estate.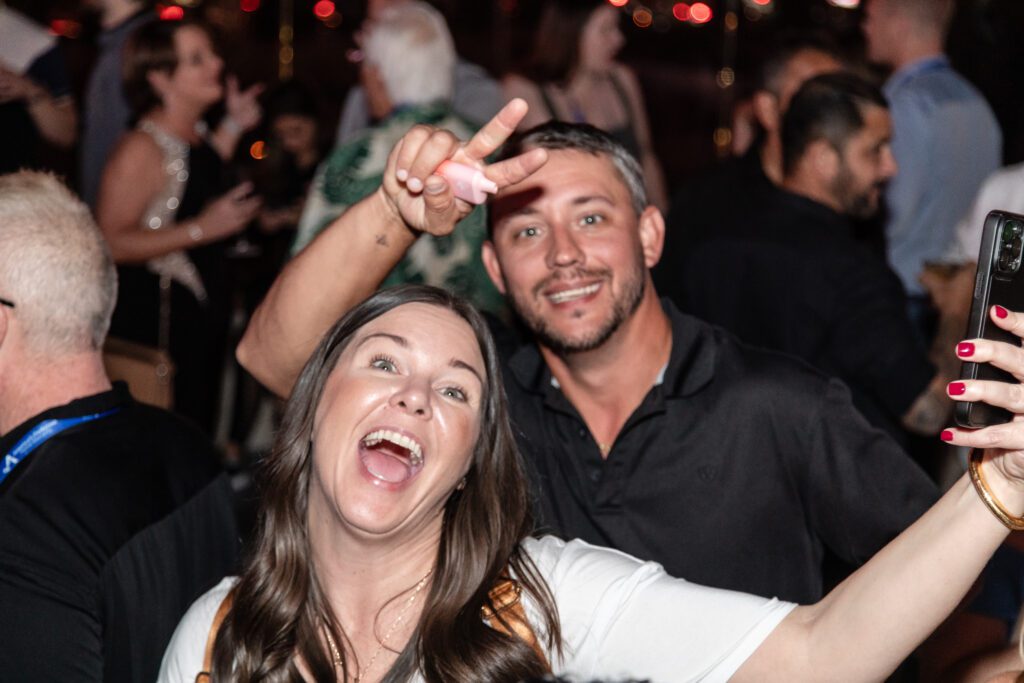 Registration for EXPCON 2024 in Miami Is Underway!
If you missed EXPCON 2023, don't miss EXPCON 2024, which will be held in Miami, Florida, on Oct. 27-30, 2024 at the Miami Beach Convention Center.
__________
Interested in joining the fastest-growing real estate brokerage on the planet? Learn how eXp Realty puts agents first.