The LGBTQ+ Real Estate Alliance unveiled its third annual LGBTQ+ Real Estate Top Producers list, recognizing 388 individual agents and teams for their 2022 production and five eXp Realty agents and teams made the list.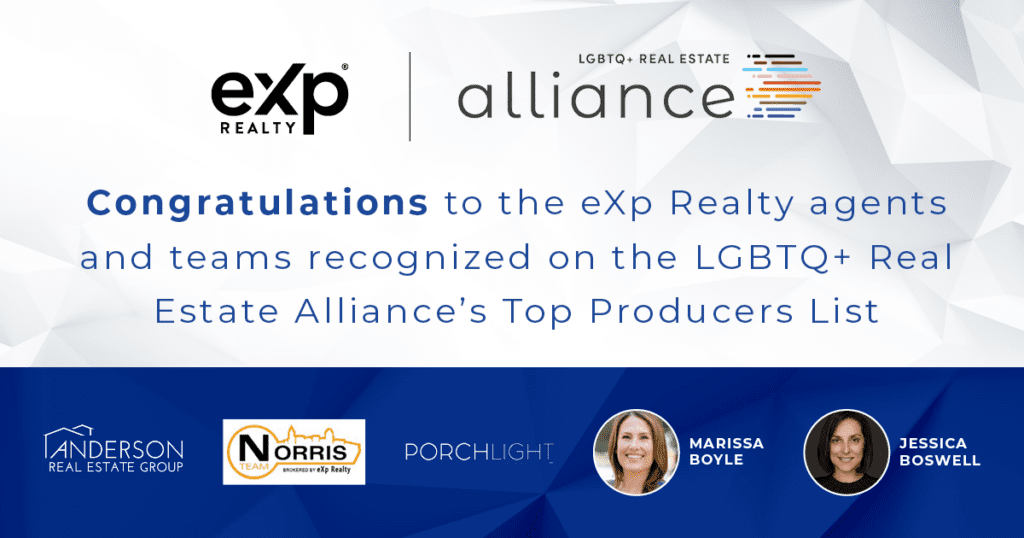 The ranking is the industry's only list recognizing top-producing LGBTQ+ and ally members. Recognized Alliance members amassed $8.53 billion in sales volume while completing 15,919.3 transaction sides in 2022. 
Mark Pattison's PorchLight Realty Group in San Diego, California, led the team sales volume list for the first time producing $431.6 million in 2022. Mark's achievement bumped an Ohio agent who earned the award for the past two years.
Also in the top 10 for team volume was Steven Norris and the Norris Team of Cary, North Carolina at No. 7 and the Jeff Anderson Group of Long Beach, California, at No. 9. All three teams ranked in the top 20 in the team sides category coming in at No. 3, No. 4 and No. 14 respectively. 
Additional notable achievements were two individual eXp Realty agents who ranked within the top 10 for individual sides: Marissa Boyle of Charlotte, North Carolina, came in at No. 2 and Jessica Boswell of Burlington, Connecticut ranked No. 8, both also appearing within the top 50 for individual sales volume at No. 4 and No. 36 respectively. 
Congratulations to all of the honorees for this outstanding achievement!
__________________
Interested in jump-starting your real estate career? Learn how eXp Realty puts agents first.