The Liberty Group is a perfect name for a retired combat veteran and one who wants the freedom to conduct business anywhere he'd like, which is why – after nine years with RE/MAX – Anthony Glenn II has moved his Liberty Group team of 32 agents and four staff to eXp Realty for its borderless model to complement his 10X Vets partnership with Grant Cardone.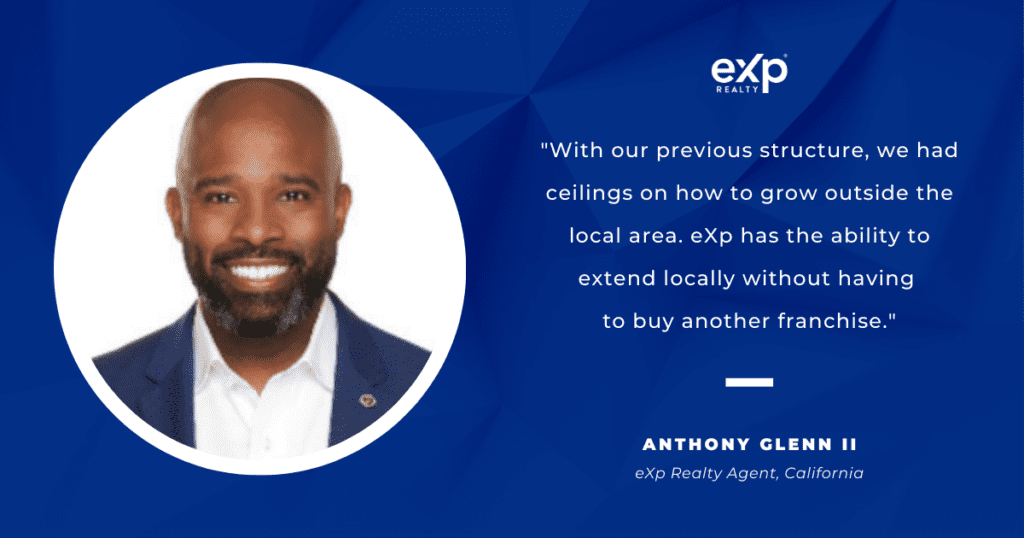 Tony's real estate journey is one of service, dedication, and unwavering commitment to both his clients and his fellow veterans. Having served in the U.S. Marine Corps from 1996 to 2016, including deployments to Afghanistan and Iraq, he developed a deep understanding of the unique challenges faced by service members and their families. His experiences also exposed him to the complexities veterans face when seeking to utilize their VA benefits, particularly when it came to homeownership.
Upon retiring as a combat veteran, Tony transitioned into the real estate industry with a mission to assist veterans and military spouses in navigating the world of real estate. In 2016, he purchased his franchise, which is headquartered in Southern California, serving the communities of Oceanside, Riverside and San Diego.
"We are excited to grow within the brand to expand what we do with veterans and military spouses," Tony said after joining eXp Realty in July 2023. "With our previous structure, we had ceilings on how to grow outside the local area. eXp has the ability to extend beyond locally without having to buy another franchise." 
Tony's Focus Is on Helping Veterans in Homeownership
The success of the Liberty Group speaks volumes about Tony's leadership and vision. In 2022, the team closed an impressive $287 million in sales on 319 units and referrals. This achievement underscores their expertise in a wide range of real estate transactions, including VA loans, residential properties, luxury estates, condos, land deals, and multi-unit investments.
In 2017, Tony established the Veteran Homeowners Club, a  501(c)(3) nonprofit committed to providing homeownership education tools designed to enhance veterans' understanding of investing with VA loans complementary to community outreach. This initiative was born out of Tony's first-hand experience witnessing the lack of knowledge among service members regarding their valuable benefits. The Veteran Homeowners Club has been growing its brand for several years, and with Tony's transition to eXp Realty, its potential for nationwide impact has significantly expanded, seeking those looking to support veterans and military spouses. 
Liberty Team Partners With Grant Cardone to Create 10X Vets
In 2023, Tony's Liberty Team contributions to veterans was recognized by the Cardone Family, leading to a partnership designed to advocate for generational wealth building and financial literacy called 10X Vets.
One of the key aspects of Tony's journey with eXp Realty is the support he and his team have received during the onboarding process. The global opportunity for growth, along with the support provided by eXp Realty, has positioned Tony's team to achieve new levels of success while maintaining their commitment to veterans and military spouses.
Brokerage history:
eXp Realty (July 2023-Present)
Broker-Owner RE/MAX Liberty  (Jan. 2017-July 2023)
Team Executive RE/MAX Elite Team (Jan. 2016-Feb. 2017) 
Team Executive RE/MAX Performance Plus (Sept. 2014-Jan. 2016)
Co-Owner New Vision Mortgage & Real Estate (June 2007-Sept. 2014)
Other highlights: 
U.S. Marine Corps (1996-2016) – Disabled Combat Veteran (Iraq, Afghanistan) Marine Corps Drill Instructor, Trainer
Feb. 2023 – Created Exclusive Partnership with Grant Cardone (10X Vets) 
RE/MAX Diamond Team 2022, Titan Club 2022, published in Above magazine
RE/MAX Diamond Team 2021, Diamond Club 2021 
RE/MAX Pinnacle Award 2020, Titan Club, 2020
RE/MAX Titan Team, 2019 Chairman's Club 2019
RE/MAX Lifetime Achievement Award 2018, Chairman's Club 2018
RE/MAX Executive Club 2017
Hobbies include spending time with his two children, Anthony 11, Karson 10, church, volunteering at the Veteran Homeowners Club, 501c3 Life Member of Omega Psi Phi Fraternity, Incorporated.
__________
Interested in joining the fastest-growing real estate brokerage on the planet? Learn how eXp Realty puts agents first.