When people you admire and trust make a big move, the inclination is to learn why and potentially follow suit. Garth Ward and Austin Homolka did just that by moving their 50-agent top-producing Washington state-based Park Place Brokerage to eXp Realty in early February 2023.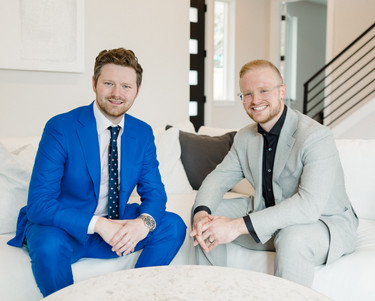 Austin and Garth once worked with Sean and Scott Bautista, twin brothers and real estate agents at Avenue Properties in Seattle, a luxury brokerage acquired by Compass. Once the Bautista twins moved to eXp, it put Garth and Austin in motion.
"Our decision to join was influenced by our former colleagues Sean and Scott as well as (eXp Realty influencer) Mike Sherrard, the Wolfpack and the unique benefits of the revenue share model, which piqued our interest," said Garth.
"After careful consideration and research, we realized that eXp offered us the flexibility and opportunities we were seeking. The prospect of leveraged income, building a strong personal brand, and having a geographically unrestricted platform to partner with agents from around the world were all factors that ultimately led us to join eXp. Our goal was to build a business that provided time freedom as well as financial freedom, and eXp was the right vehicle to help us achieve that."
> Read why the revenue share model is better than profit share
eXp Realty Removes the Headaches and Barriers Independent Brokerages Face
Once Avenue Properties sold to Compass, Garth and Austin joined forces and formed Park Place Brokerage in 2018, growing it at one point to 130 agents. However, as many independent brokerages realize, the risks and difficulty to scale and retain talent become challenging.
"By joining eXp, it's allowed us to take control of our business and take it to the next level," said Austin. "The support and resources offered by eXp, such as cutting-edge technology, training and coaching programs, and a strong, collaborative community of agents, gave us the time freedom that we needed in order to truly focus on growth and support. 
Brokerage history:
Garth Ward
Park Place Brokered by eXp (2023 – present)
Park Place (2018 – 2023)
Avenue Properties (2016 – 2018)
John L. Scott (2013-2016)
Austin Homolka
Park Place Brokered by eXp (2023 – present)
Park Place (2018 – 2023)
Avenue Properties (2017 – 2018)
Icon Real Estate Group (2017)
People's Real Estate (2016 – 2017)
"The revenue share model was particularly appealing as it aligned with our goal of building a sustainable business that would continue to generate income even after our active years in the industry," said Garth. "This was a game-changer for us as it allowed us to break free from the limitations of our traditional brokerage and gave us the freedom to run our business the way we saw fit.
"We were willing to risk a lot (way more than most) in order to make this happen. We had significant overhead, a big agent team and a strong premium presence in the marketplace. Other brokerage owners (small or large) should consider this change as well."
Key Stats for Garth Ward and Austin Homolka:
Joined eXp Realty in February 2023
Park Place, Brokered by eXp has several offices in Washington State: Federal Way, Bellevue, Spokane and Olympia
Production in 2022: $245,602,219 closed sales on 482 units.
Specialize in residential and luxury properties
Learn more about Garth Ward and Austin Homolka:
How long were you considering the move to eXp?
"We had been considering a move to eXp for many months before finally making the decision. During this time, we evaluated several different options, including a full purchase/acquisition. However, we ultimately chose to join eXp because it allowed us to remain closely involved with our agents and position ourselves as the premium option by using the Park Place brand. This was a critical factor for us as we believe greatly in the power of branding and wanted to ensure that we maintained the reputation and prestige we had built over the years. The revenue share model and the support and resources provided by eXp, combined with the ability to continue to build our brand, made joining eXp the best choice for us and our business."
What are your impressions of eXp so far?
"Our impressions of eXp have been overwhelmingly positive. The company has a great infrastructure and provides amazing support, which has made the transition seamless. We also love working with the Bautistas again and are blown away by the offerings of Mike Sherrard and the Wolfpack."
Do you specialize in certain types of real estate?
"Our specialization is in residential and luxury real estate. We believe in staying ahead of the curve and utilizing modern go-to-market strategies, coupled with the best available marketing tools, to give our sellers an edge in the market. We are constantly experimenting with new ideas and methods to provide our clients with the best possible services and advantages. Our focus on innovation and keeping up with the latest technology and trends sets us apart and allows us to deliver exceptional results for our clients."
__________
Interested in jump-starting your real estate career? Learn how eXp Realty puts agents first.