What better way to start EXPCON 2023 than with a rousing edition of XCamp, the "unconference conference" that is designed by eXp Realty agents, for its agents?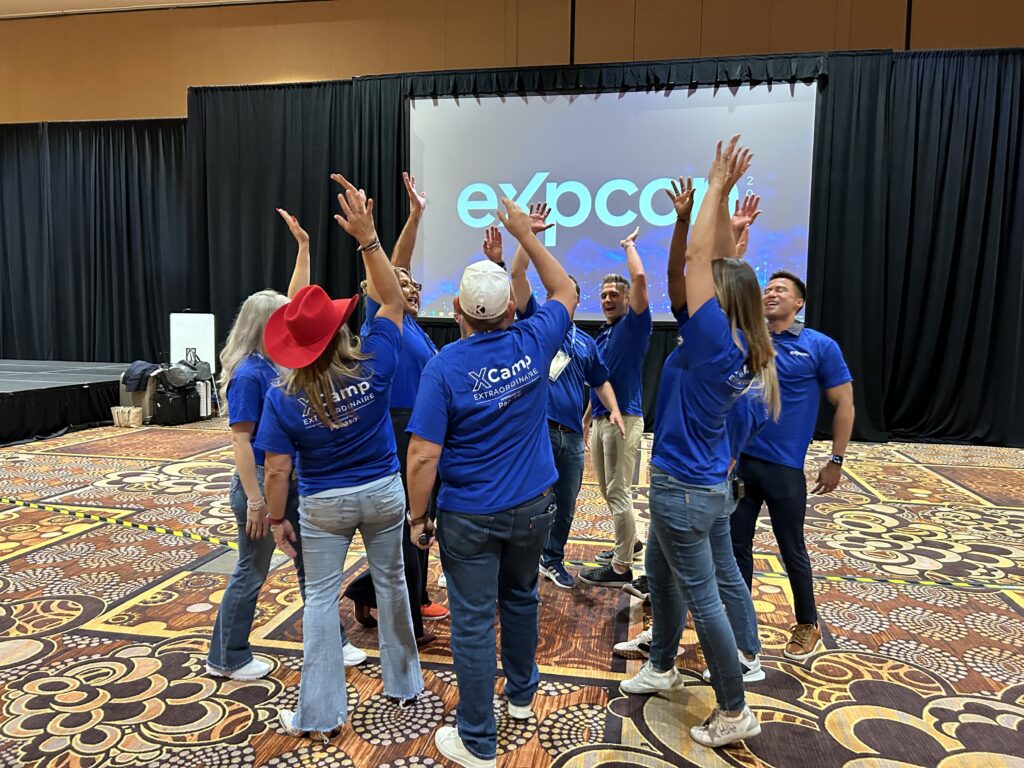 Co-hosted by eXp Realty agents Elizabeth Riley and Keith Duble – both from Austin, Texas, and both multiple ICON Award winners (Elizabeth 8X and Keith 5X) – the event got off to an energizing start with 10 themes chosen:
Building Teams With Jack Rockwell and Kevin Hawkins
YouTube with Ryan Gomillion and Ali Carced
AI with Rick Janson and Michael Weisman
Lead Generation with Tiffany Gelzinis, Julie Clark and Andrew Doran
Social Media with Shawn Getty and Michael Duggal
TikTok with Robby Baker and Sunny Singh
Luxury with Daniel Foreman and Jana Caudill
Veterans and Military with Jenn Ghinga and Charleen Byrd
FSBO with Jimmy Nelson and Syed Mohsin
Agent Attraction with Julie Yunger and Victoria Melton
Making AI Work For You
Artificial Intelligence is the hottest topic of the day, and the dedicated breakout session on leveraging its potential – led by Michael Weisman, Ben Weisman and Rick Janson – was both interactive and brimming with valuable tips and insights.
"Our job is very cognitive and AI is the best cognitive step skipper," said Rick. "AI is also really helpful in amplifying my message. You have to think of it like a Golden Retriever, it just wants to bring you the ball and make you happy but you have to give it the right commands."
Ben suggests giving AI the most information you can to allow it to organize your thoughts. "Take your brain dump of knowledge and let it work for you. Let it shape your knowledge."
They also discussed the top ways they use AI in their businesses. "We mainly use it for content creation and lead generation," said Michael. "But we also use it for agent attraction and to tell stories."
Lead Generation – Organic and Paid Leads
eXp Realty agent Julie Clark of Seattle, spoke about generating organic leads through open houses and provided scripts.
Julie said when you get an open house, immediately pull canceled and expired listings in the area before the open house and call those listings. Tell them you are reaching out to see if they are also thinking about selling.
"Selling off-market is a great opportunity. It's not a sales pitch; you are giving them the opportunity to think about selling again without the stress. And believe it or not, it works like a charm."
She also said to get a "sell score" on homes – the potential of a home selling in the area of the open house – and get the phone number and call them to inform them of an upcoming sale to get them intrigued.
"You are giving them value. You are doing them a favor."
Julie said a myth of off-market sales is that the seller won't pay a commission, but she disputes that.
"If you offer them value, they will be interested. If it's full price and no hassle, it will work."
Tiffany Gelzinis, an ICON agent from Virginia Beach, Virginia, spoke about paid leads. She emphasized strongly that having your own database that you've built up over time is deeply valuable.
"I'm a big data junkie. You need to treat every single contact as a data point in the system. You need a system to stay out front. I bought leads from a company (legacy leads) for 50 cents a lead and I worked it over time. What you do over time is build it over time. Work the low-hanging fruit out of it."
"When you do Zillow or Realtor.com, you better go big or go home. Do your referral-based stuff, Redfin, etc., and pay for a smaller PPC (pay per click) budget and spend the rest of the money on slowly buying tools that nurture your database."
Andrew Dorn of Follow Up Boss joined them on stage and said: "Don't have all your eggs in one basket – spread it. Have 9 or 12 or 18 lead sources. Then evaluate each lead source to see which performs best."
Social Media Platforms: How to Go From DM to Dollars
eXp Realty agents Shawn Getty of Alberta and Michael Duggal of Ontario presented a session on social media. They both agreed to the 80/20 rule of posting on social media (80% personal and 20% professional.)
"People are on social media because there are no ads. You need to show your dog, your vacation, etc.." said Shawn.
Shawn said his favorite social media platform is Facebook Marketplace.
"It's free. Grab your listing or someone else's and share it to a whole bunch of community groups. Example: Central Florida Yard Sales, Orlando Garage Sales, Things Happening in Central Florida, Alligator R Us."
He also said there are five pillars about what you should post about:
Food
Pets and kids
Fitness
Inspiration/motivation
Memes
Michael's favorite social media channel is YouTube. He suggested an easy video idea is to take market stats from the previous month, put it on Canva and make a nice chart. Show the number of sales, days on market, and list price to sales price percentage.
Michael's takeaways:
TikTok is a younger demographic. I love YouTube and Facebook. Twitter is good for a high-end market.
I post between noon and 6 p.m.. Look at analytics. (What content has been saved, what content has been shared.)
Post every single day. Engage with people on their social media. Drop likes. 
It's very easy to tell who is using chatGPT. It's better to be authentic.
Go interview chefs at restaurants or anyone in your community. Be local.
TikTok – You Have 3 Seconds to Hook the Viewer
eXp Realty agents Robbie Baker of Knoxville, Tennessee, and Sunny Singh of Rancho Cucamonga, California, presented a talk on how to use TikTok in real estate. The first and biggest thing they emphasized was to understand that people have very short attention spans. 
Some takeaways from Robbie:
People don't want a real estate robot. They want you. They want someone to relate to.
The hook is the most important part – the first 3 seconds.
Curiosity sells.
Storytelling is the most undervalued skill.
It's not about awesome graphics or amazing editing, it's about capturing their attention.
Most won't watch if it's over 60 seconds. Shoot for 30 seconds.
Use SnapTik.com to manually repurpose your video on other platforms. 
Sunny has an interesting background. He is a host on the American Dream TV show, manages a hotel and does real estate part-time. But, he is finding incredible success on TikTok for real estate leads. Here are his tips:
I just show what I am. Just be you. 
I start with my morning workout.
Because of TikTok, I sold 6 homes.  And I took home $180K already this year doing real estate part-time!. 
Like-minded people will connect with you. 
Don't be fearful. 
Robbie said that for short-term attention spans – especially younger crowds – TikTok is where everyone is. 
Building Teams and Building a Business
Jake Rockwell and Kevin Hawkins kicked off an interactive breakout session on Building Teams, discussing the logistics of how to build a team and taking questions from the audience. 
They highlighted the importance of clearly defining a team leader's role. 
"A team leader's job is to figure out where the value lies," said Kevin. "For us, building culture and providing training are two strong selling points for our agents. You have to figure out where the value is for your agents."
Jake added to that by calling out the importance of a personal touch. "We celebrate the actions that get results during our team meetings," said Jake."I also try to do regular one-to-ones with my agents to help them professionally and personally however I can."
They also touched on using social media to enhance recruiting efforts and how to effectively communicate the benefits of joining eXp. 
How To Leverage YouTube for Success
Ali Garced and Ryan Gomillion led a discussion on how to leverage YouTube for maximum success. They shared a number of tips and tricks including:
Authenticity is the key: "You have to be authentic to stand out," advised Ali. "Your personality will differentiate you."
Content is critical: "Interview people, do neighborhood tours," suggested Ryan. "It doesn't have to be fancy. You just need to educate people. I do regular mortgage updates, for example."
Don't aim for perfection: Novices can start with scripts and then move to bullet points as they get more used to it: "With each one I get better," said Ryan. "You need to be authentic, not perfect."
Tie it all together: "Always have an end screen," said Ali. "You want to have a call to action. You also want to point them to other content you have that they might be interested in."
Successful Selling in the Luxury Division
Daniel Foreman, Jana Caudill and Noe De Leon led a breakout on luxury real estate.
"Luxury clients require a different level of coddling, and you need to be dedicated to providing it, " Daniel said. "You have to be at your listings, available to discuss the property and point out its special features."
The group then answered agent questions about the secret sauce to successful selling in the luxury division and how to stand out against other sellers. 
"I always say a listing is the tree and it's up to us to put branches on that tree. Your branding; postcards, signage, directionals, how you present yourself," Jana said. "Everything you do is so important when you are representing luxury properties and sellers."
Noe cited property knowledge as the key to success. 
"Really understand the property. Really understand it. Find out from your clients why they purchased it and what has taken place there, that's a story. The story will help the buyer connect and be a part of that story."
Catering to Veteran and Military Buyers
Charleen Byrd, Jenn Ghinga, Naseem Eissa and Maria Mcgee led a discussion on veteran and military buyers.
"Military buyers are loyal. If you serve them and do everything you can for them, they will refer you better than your own mother does." Jenn said. "If you care for your military families, they will make sure you are catered to (as an agent)  forever."
Charleen discussed the importance of choosing a lender who understands VA (Veterans Administration).
 "Many agents say they won't work with the VA because it's too complicated, and that couldn't be less true," she said. "You have to work with organizations who understand the VA process." 
The group focused on the VA Tidewater process that exists to combat low VA appraisals, a common fear for agents who do not want to work with VA loans due to appraisal issue concerns. Tidewater ensures that deals go through despite low appraisals and keeps the closing process moving. 
"You can close a VA loan more quickly than any conventional or FHA loan," Jen said. "it's practically like cash." 
Naseem stressed the need to understand your clients' personal situation and put yourself in their shoes. 
"Think about what they are facing. Are they coming from overseas? Do a video walkthrough, and make yourself an invaluable resource for them."
Successfully Converting FSBO Clients
Syed Mohsin and Jimmy Nelson led a discussion on FSBO properties (For Sale By Owner).
"FSBO represents a significant number of homes in the real estate arena, and a significant number of sellers," Syed said. "However, only 8% sold by FSBO as a FSBO, and they would have sold for 28% higher if they had used an agent," Jimmy added.
The pair discussed the challenge of sellers who use FSBO who don't have the marketing tools and don't know what they're doing or how to scale their sales efforts. 
"I always ask, would you sell a Rolex at a garage sale? No. So why are you selling your house that way?" Jimmy said. "I coach and train agents to ask FSBO's the question – if a total stranger knocked on your door, would you let them in? Because that's what will happen with FSBO." 
Jimmy stressed the key point that agents work on their end is to make sure they are verified and approved to buy the home, an attractive point for sellers. 
Syed cited empathy as a strong conversion tactic. 
"You have to demonstrate the value that you add for the seller. Approach them with empathy and understand their perspective to understand why they are using the FSBO approach," he said. "Many sellers say they just don't like agents and do not have another basis for using FSBO. You will hear their story and show them your value."
__________
Interested in jump-starting your real estate career? Learn how eXp Realty puts agents first.